Day 7/16 : FRI 27th February 2015
And we're off to London to see The Queen!
Well, not quite. After arriving on the Eurostar from Paris Gare du Nord,  Randall and I walked over to Euston station from London's St Pancras international to board the Virgin Train to Manchester. Yup, there's no time to lose!
We rode First Class on the J train to ensure that we got ample space to stow away our large suitcases and it was truly one of the smoothest railway rides I've ever experienced. You pay a little more for a comfortable waiting lounge, complimentary food and drink on board, free wi-fi, power plug outlet for your gadgetry, more leg room and even access to a clean and an ultra funky lavatory. The journey took about 2 hours and 20 minutes and once we arrived at Manchester Piccadilly station, it was just a short taxi ride away to Oxford Road where we booked the Holiday Inn Express to stay for two nights.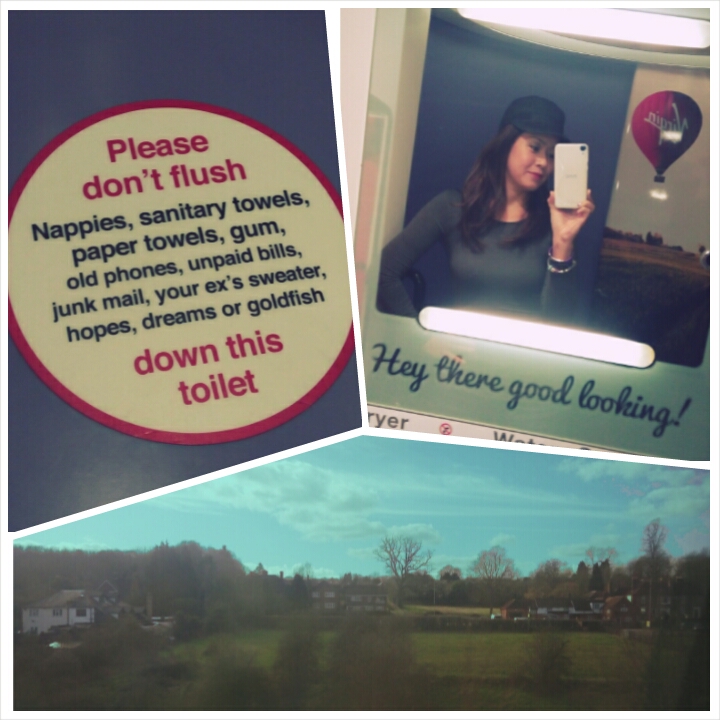 Ladies and gentlemen, THIS was the dream weekend for Randall Tan – the ultimate die-hard Manchester United football fan. Indeed, how could we even plan a trip to the UK and not pay homage to the "Theatre of Dreams"? Well, to be fair, Randall had already been to Old Trafford once before eons ago when he was a flight steward but it was purely a touch-and-go trip on a non-match day. How unsatisfying, to say the least.
Hence, on this trip, Randall made sure he secured that ONE ( over-priced ) ticket to catch the match between Manchester United and Sunderland on the 28th February, while I had planned a day of shopping around Manchester. ( And just in case you may be unaware of our EPL football club affiliations at this point, let's just say that a Pool fan married a Red Devil, so yeah, I was gonna let my husband "walk alone" to Old Trafford. 🙂 )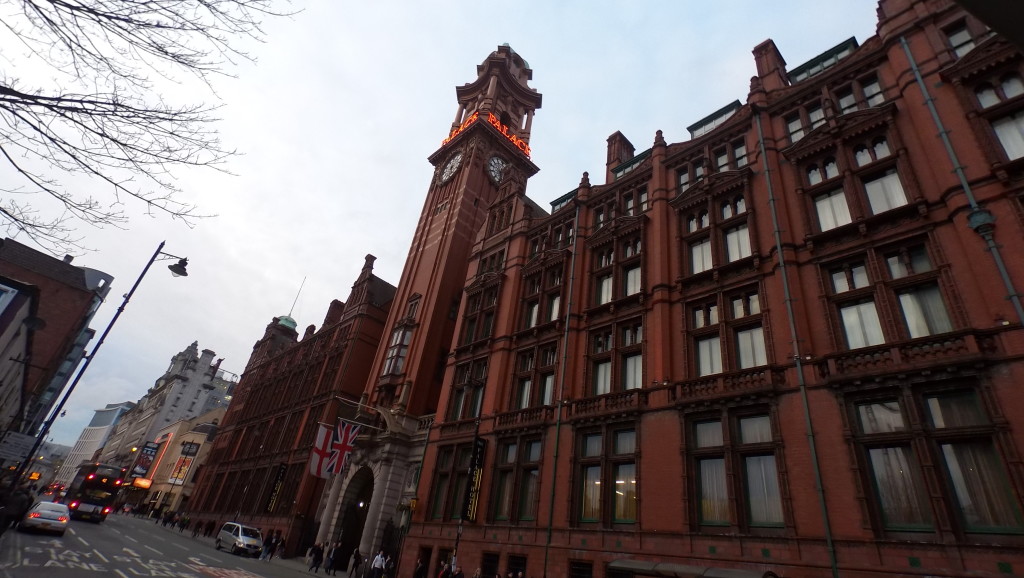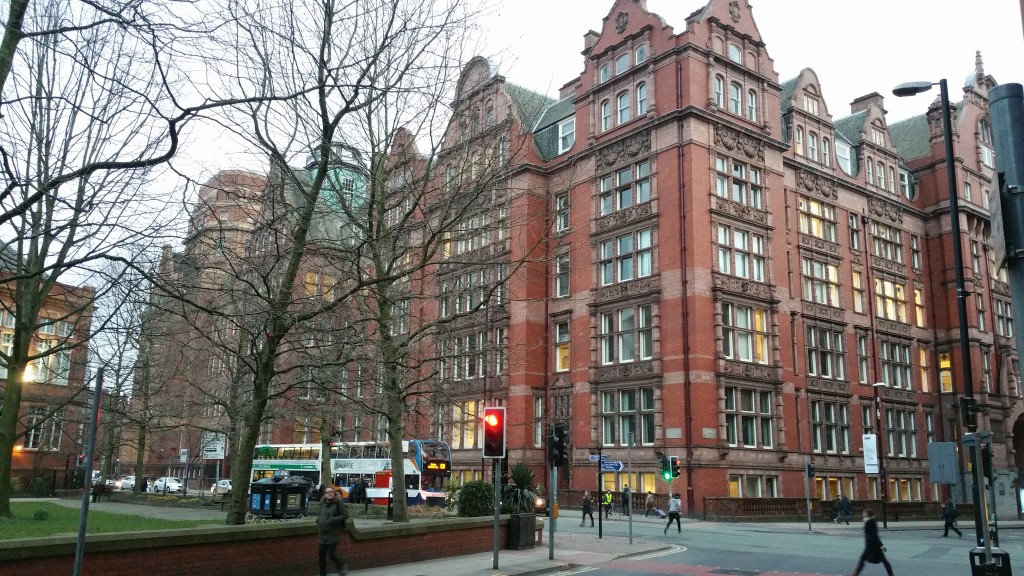 As usual, after a quick check-in, we left the hotel to explore our "hood" and decided to hunt down another Thai restaurant for dinner. Hehe. Seriously, Thai food IS the best Asian comfort food in every country! So, lo behold, we chanced upon an amazing Thai restaurant in Chinatown called Siam Orchid ( thanks to Tripadvisor! ) and had one of the best Thai meals EVER out of the Motherland.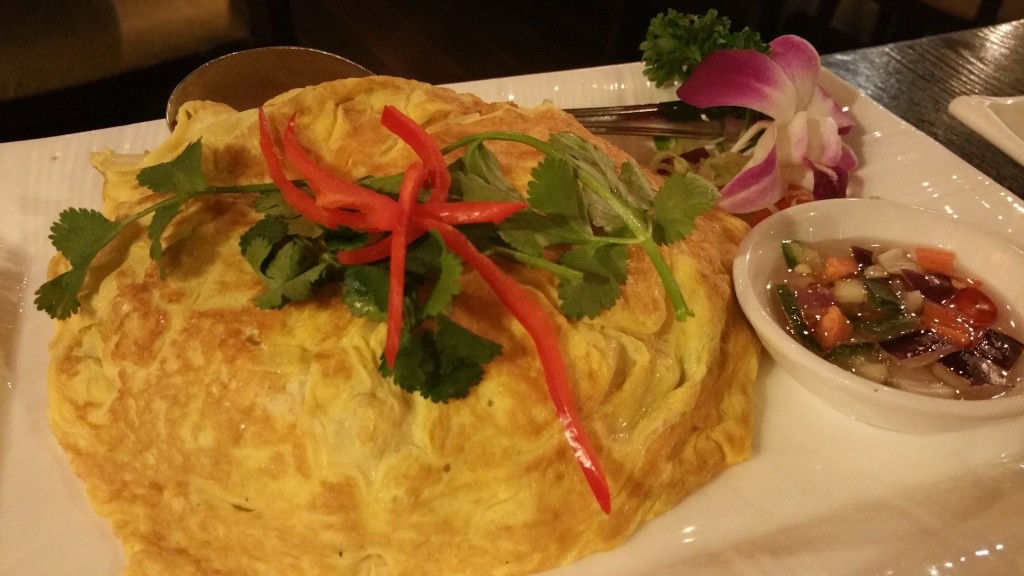 Happy clams we were as we strolled back to our hotel to rest and prepare ourselves for a big day ahead of us. Especially for the excited Manchester United fan.
Day 8/16 : SAT 28th February 2015
MATCH DAY!
Randall leapt out of bed that morning with pure excitement because of good news that transpired through the night. Incidentally, Randall's friend, C had found out that we were heading to Old Trafford that weekend and made a surprise arrangement for us to receive a pair of complimentary tickets to the match as well as a chance to meet the "Class of 1992" football greats at the newly opened Hotel Football. OMAGERD. What a crazy opportunity this is for any die-hard Manchester United football fan!
Well , looks like it was not going to be a shopping day for me after all and Randall definitely had no qualms forfeiting his paid ticket. Therefore, we quickly made plans to meet S, who was in charge of liaising with us on behalf of GG Hospitality, and we headed down to have our breakfast.
The breakfast lounge of Holiday Inn Express was filled with excited Man United jersey clad fans and Randall was proudly blending in with his home jersey. I was pretty sure that every other guest during that weekend must have been a fan of the Red Devils. I felt dreadfully outnumbered!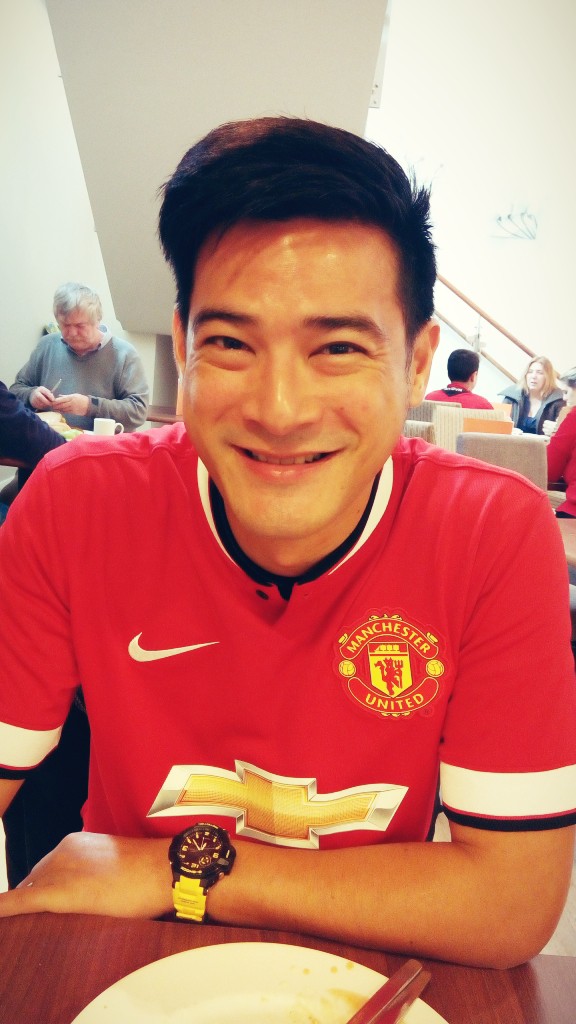 After breakfast, Randall and I made our way to St Peters Square on foot to catch a tram down to Old Trafford station.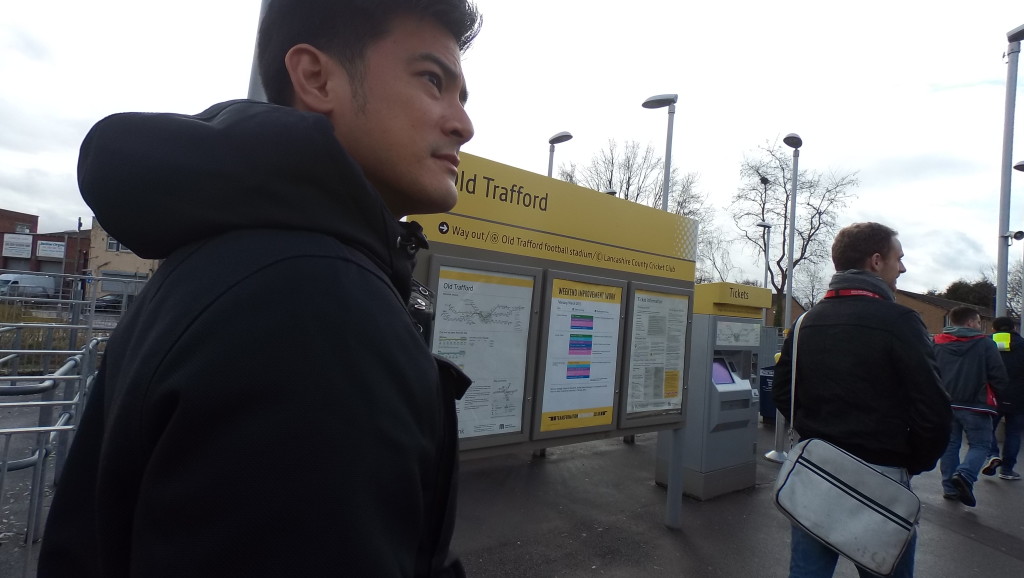 From there, it was about 15 more minutes of walking towards Old Trafford. By this time, there were already several people selling match day scarfs at the junction for 10 quid which we hastily purchased, but then realised that as we approached nearer to the stadium, they were selling the scarves for only 5 quid each. Duh!
Nevertheless, the husband was too thrilled to be annoyed and gleefully spent the next several minutes running amok around the grounds of his "Theatre of Dreams".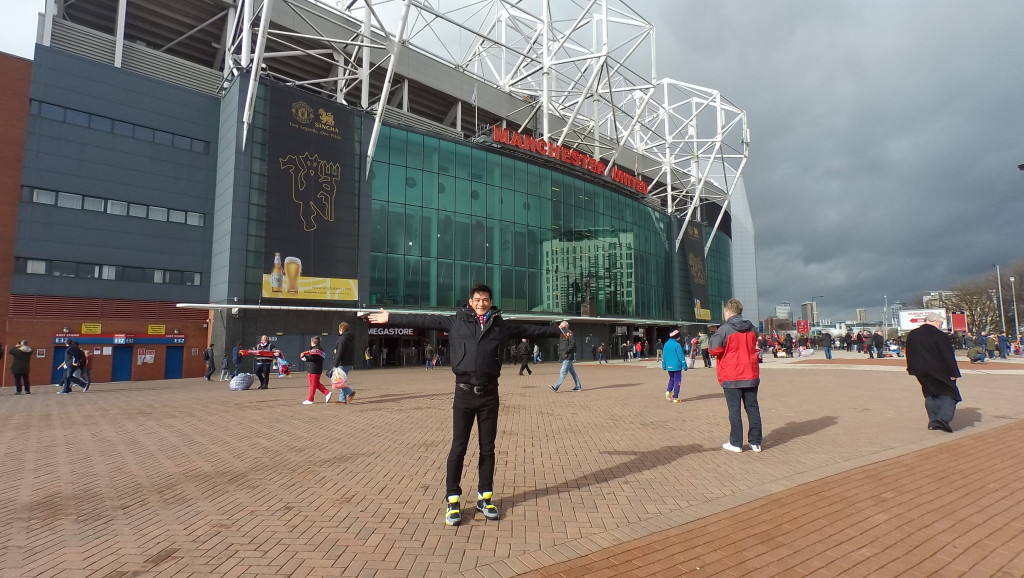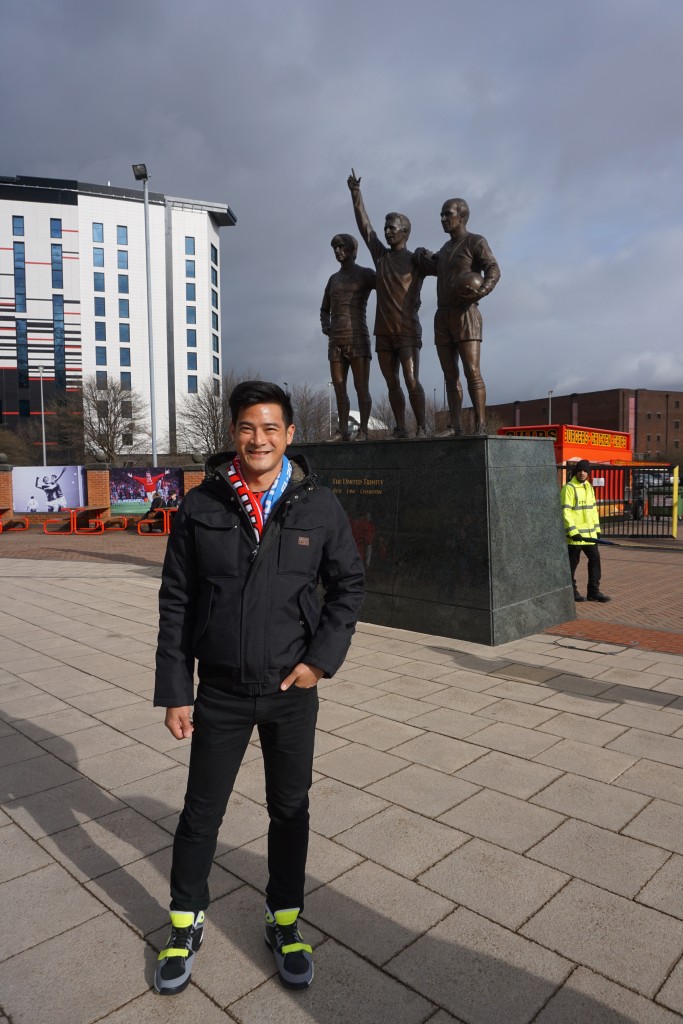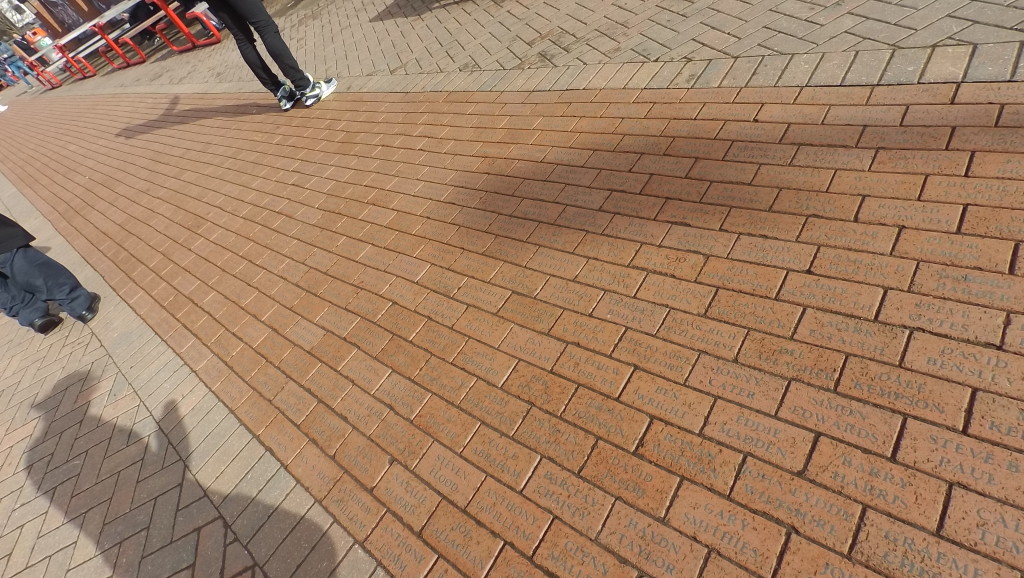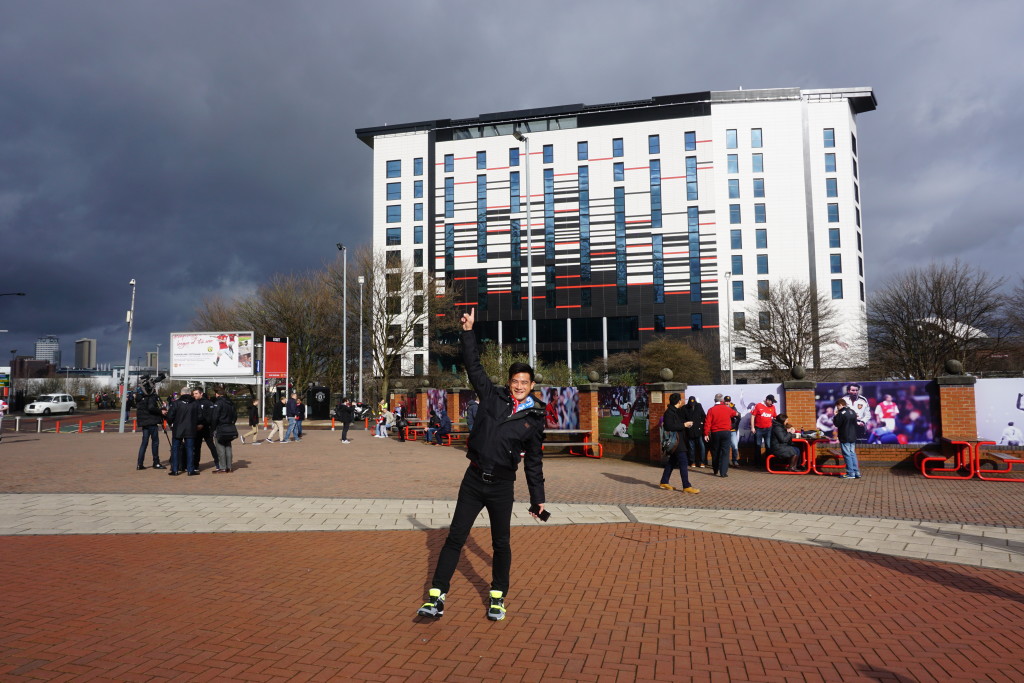 Soon, it was time to meet S at Hotel Football and he led us in to the Players Lounge to enjoy some beers ( and delicious chicken wings! ).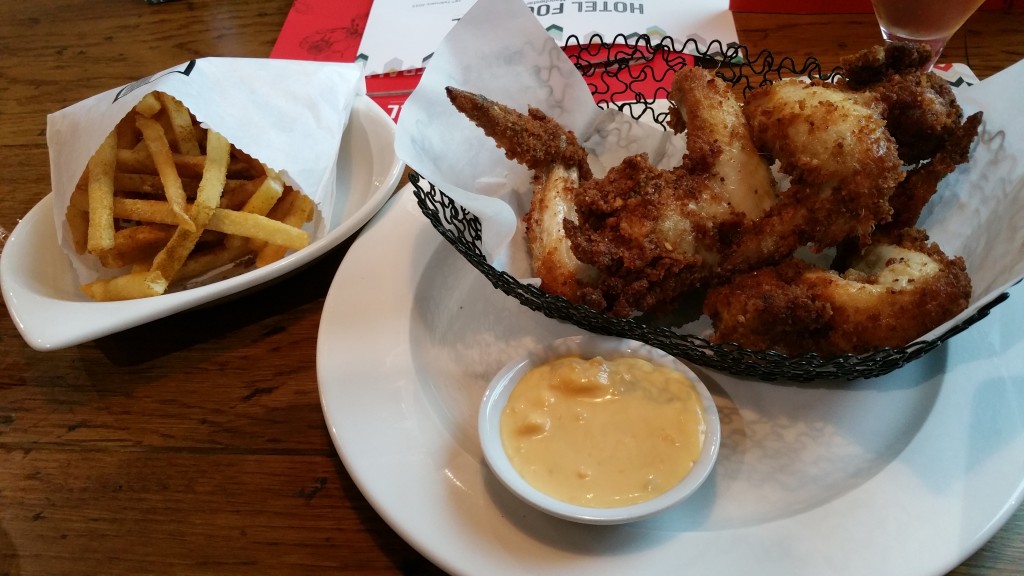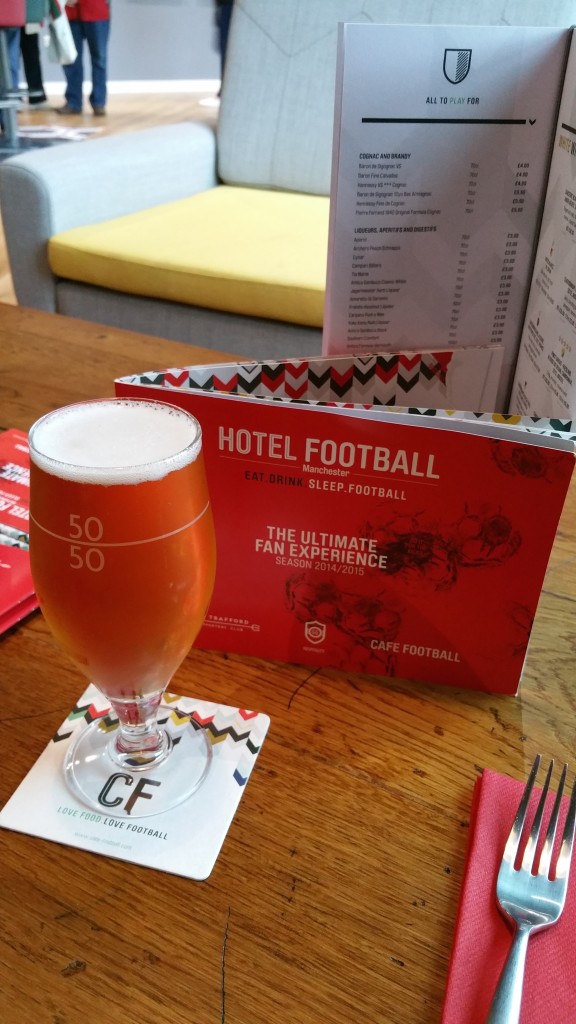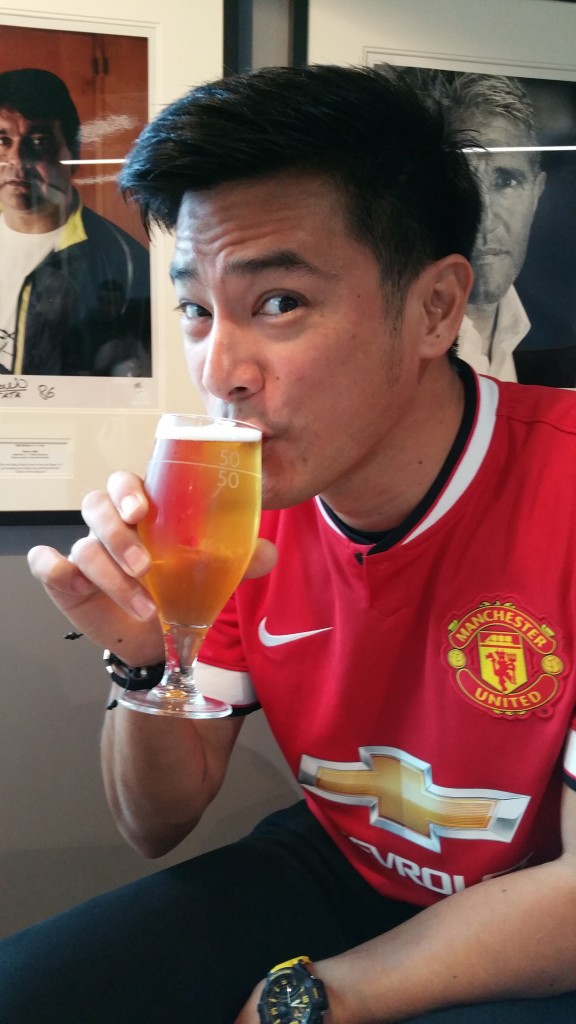 As it turned out, Hotel Football was also going through a soft launch that weekend so they had prepared an entire day's program for the Old Trafford Supporters Club starting with a Q and A session at the lounge with Man United football greats, Gary Neville, Paul Scholes, Nicky Butt and Phil Neville. What a treat it was for Randall to see the lads up close as they were briefed at the same spot as we were.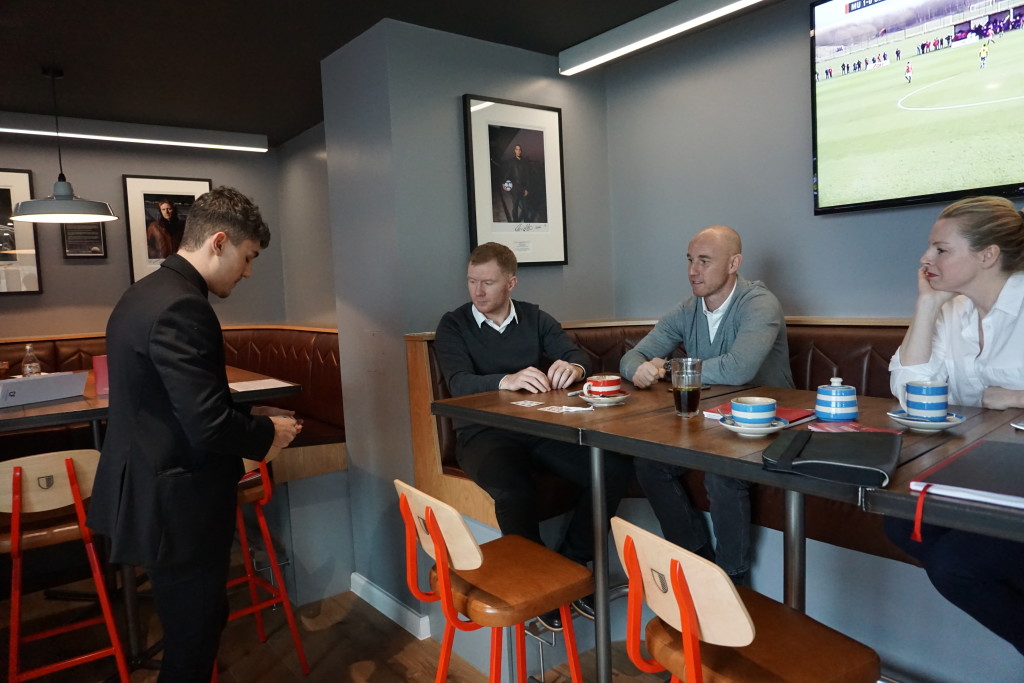 We were then introduced to Gary Nev, Scholesy, Butty and Phil Nev and you can almost imagine the sheer exhilaration bursting out of Randall as he spoke to each of them like they were all old mates. I even shared a laugh with Nicky Butt when a freelance magician came up to us to show us some awesome card tricks. Nice bunch of lads, they all were.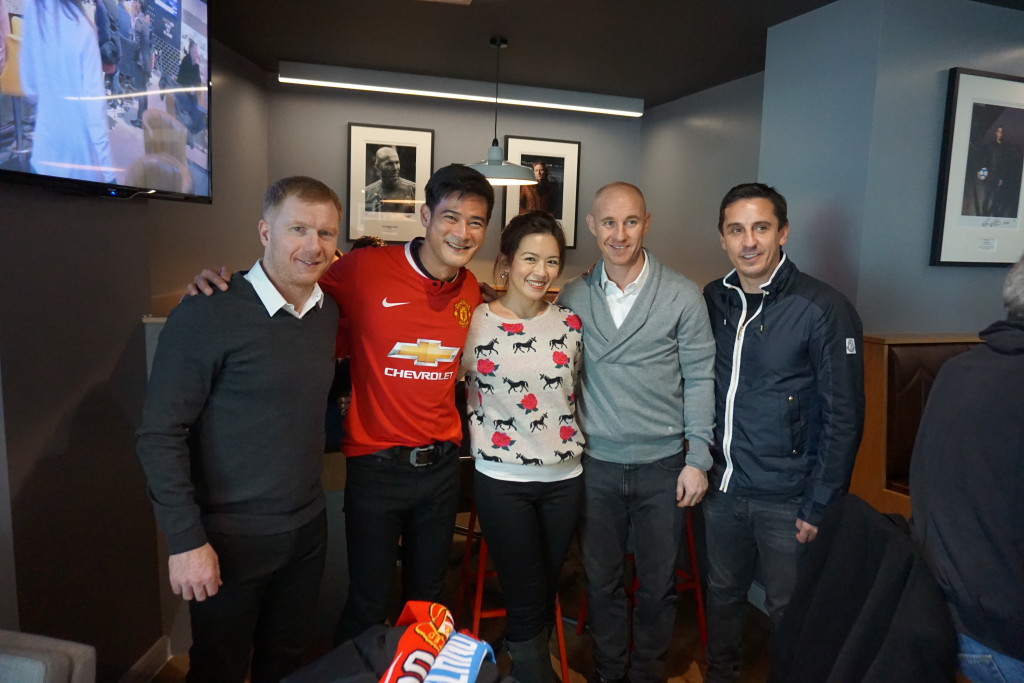 The players soon took their leave to the Stadium Suite for their next talk session while Randall and I had a quick tour of the bedrooms and suites at Hotel Football. I must admit that it is truly a football fan's dream to be able to spend an entire weekend at Hotel Football and to catch a LIVE match at the stadium. I was a little jealous! C'mon you Reds! I want the same fan experience! Hotel Football had everything and anything related to Manchester United and the beauty of football infused in all their interior decor. Too cool!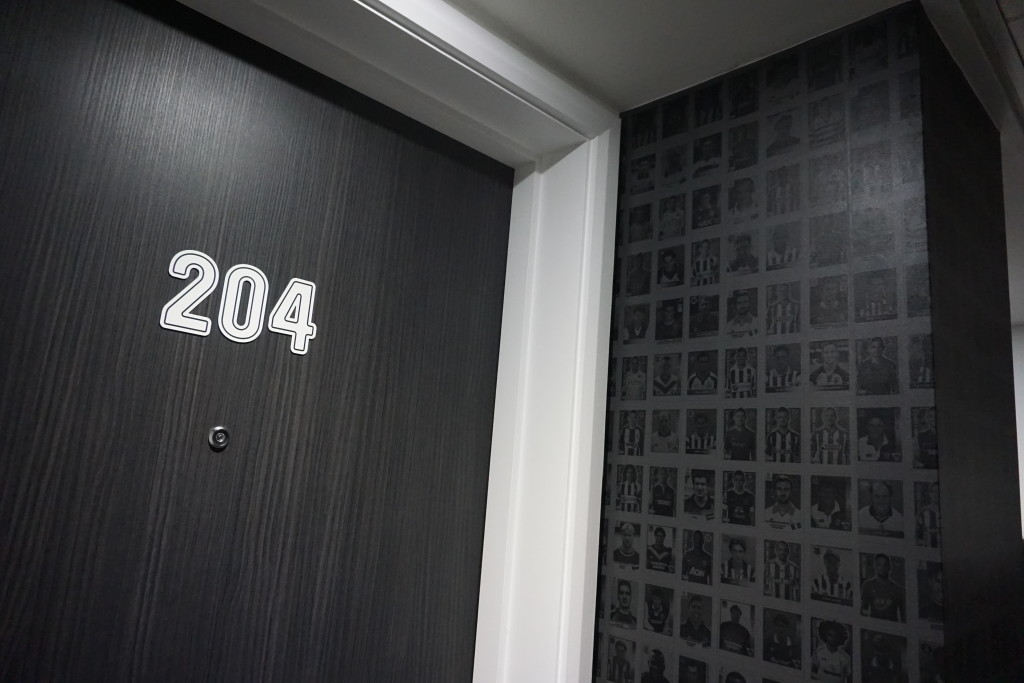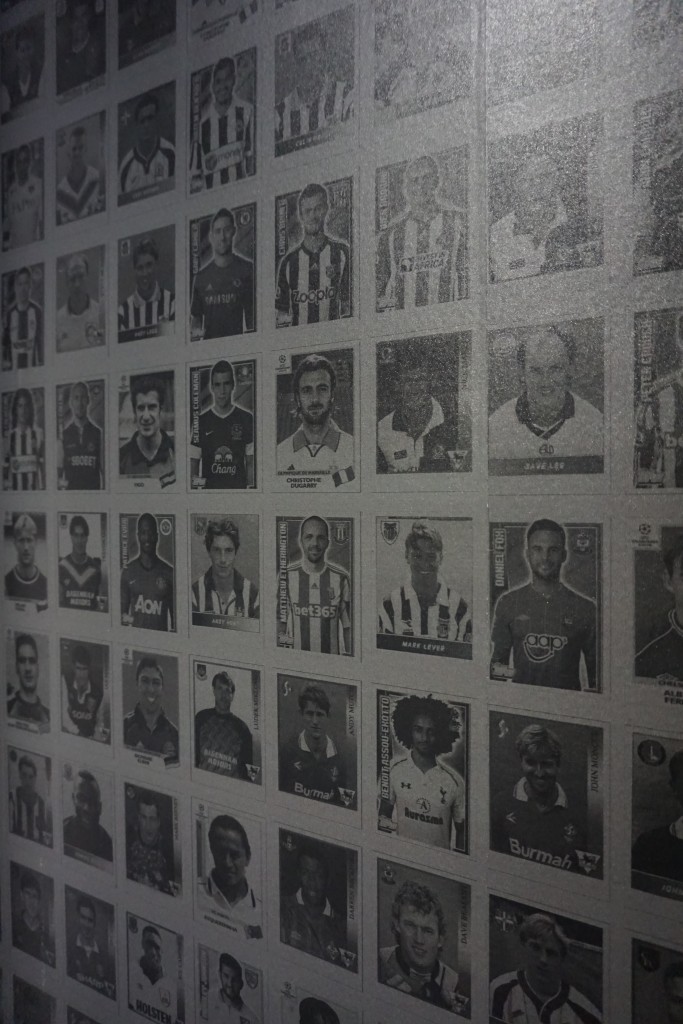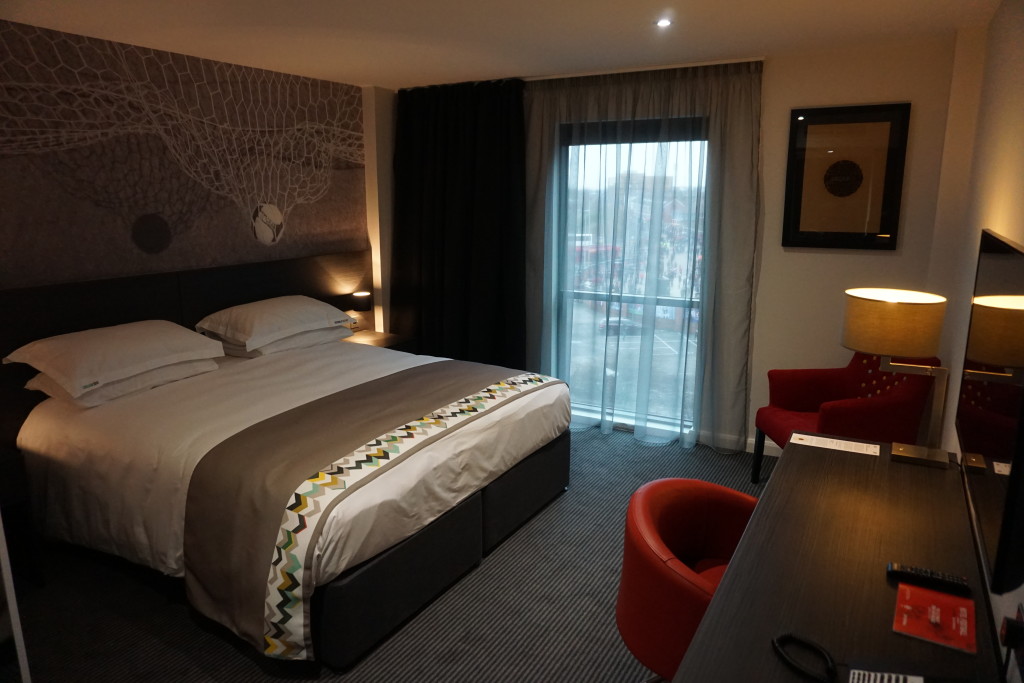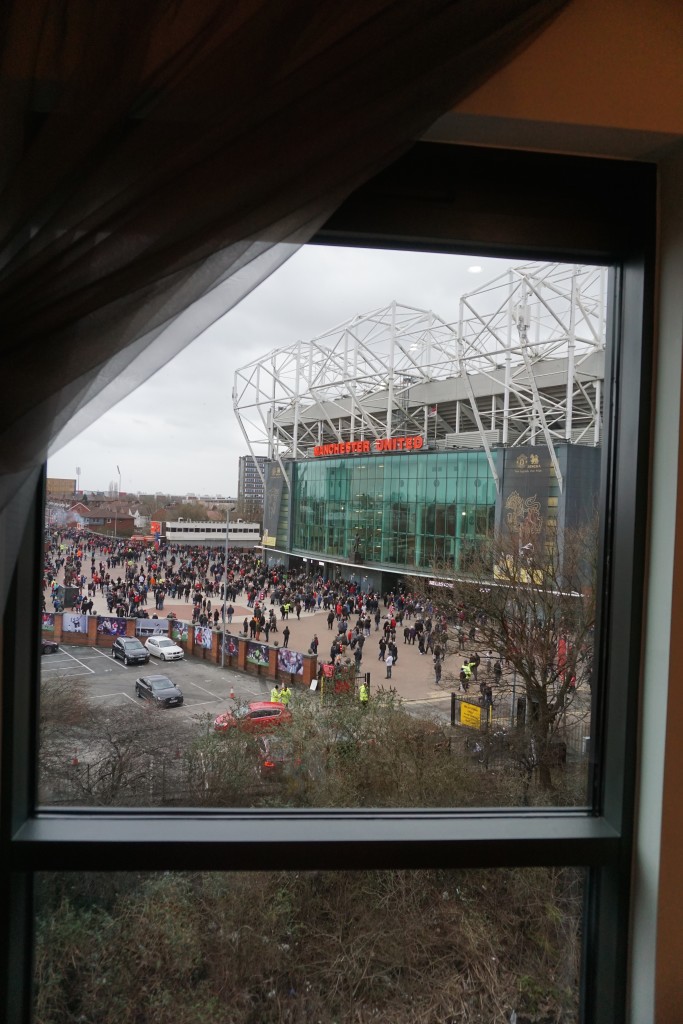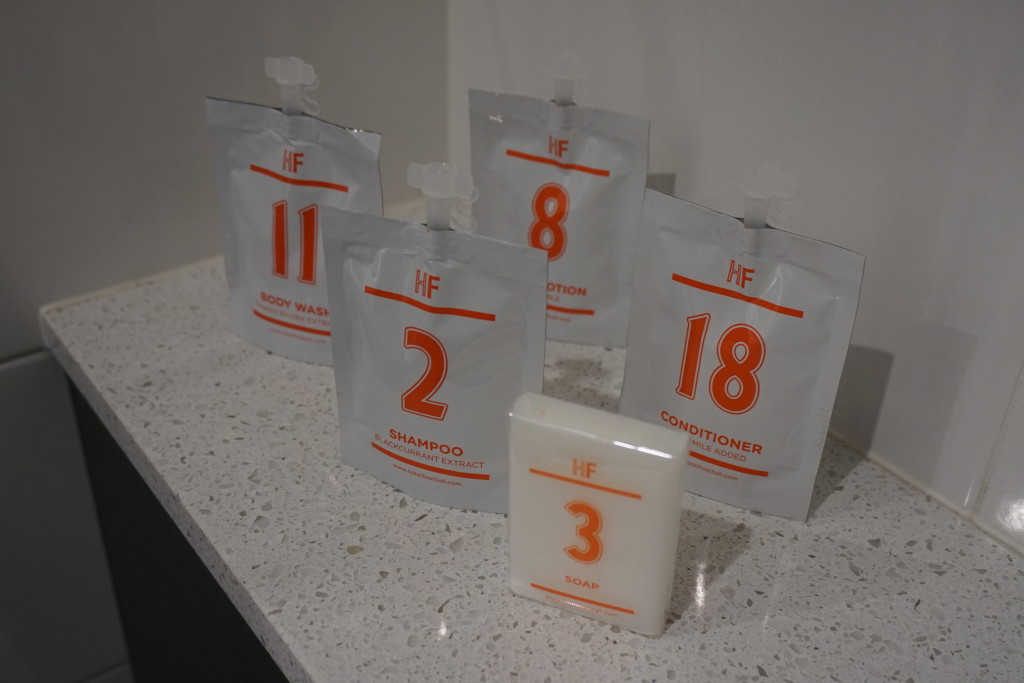 We then made our way to the rooftop of Hotel Football ( aptly named "Heaven" ) which was an indoor astroturf football pitch with a retractable roof and walls made of safety glass, so apparently it is perfectly safe for you to kick about with a football in there. Bring on them football events and stag parties, I'd say!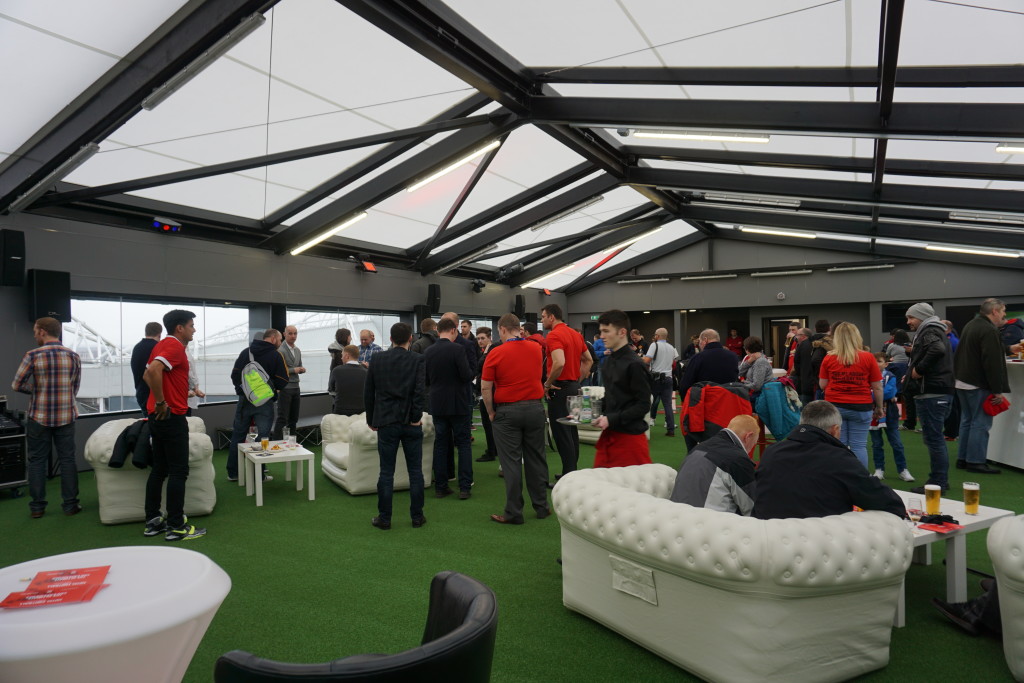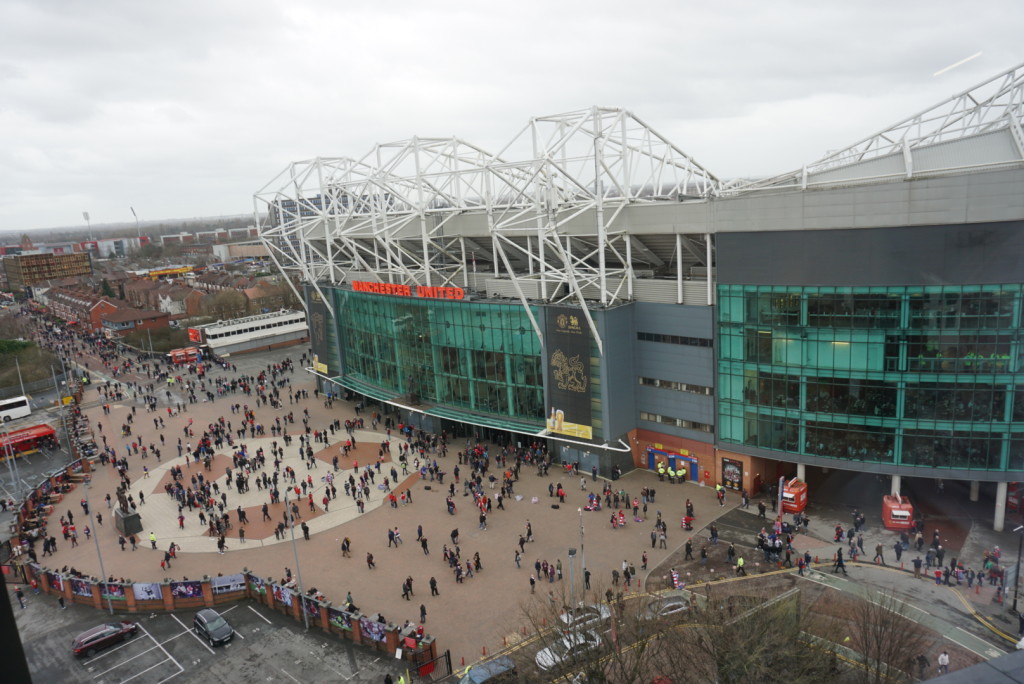 We did have another short chat with Gary Nev and Nicky Butt in Heaven at this time but as soon as more fans from the Old Trafford Supporters Club starting surrounding them, we bid them our goodbyes and went over to Old Trafford to let Randall do his mandatory fanboy shopping.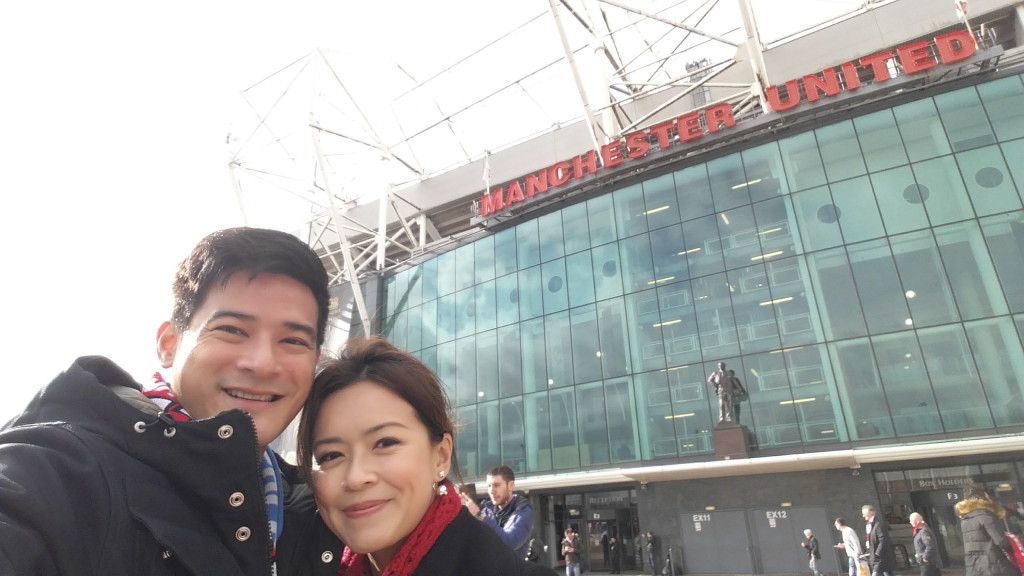 Match day at the Manchester United Megastore was slightly chaotic with hundreds of fans wanting to charge into the store but they managed to find a systematic way to let different groups in at one time. Once you are in the store, it was a single swift route through all the product aisles for you to grab whatever pleases your heart and then out you go to the check-out counters. Needless to say, the husband was pretty chuffed with his loot of Manchester United goodies that afternoon.
We then regrouped with S at Hotel Football to receive our complimentary match day tickets and we were absolutely floored to see that it was signed off by Giggsy! Oh man, we actually scored tickets that were reserved for his "friends and family".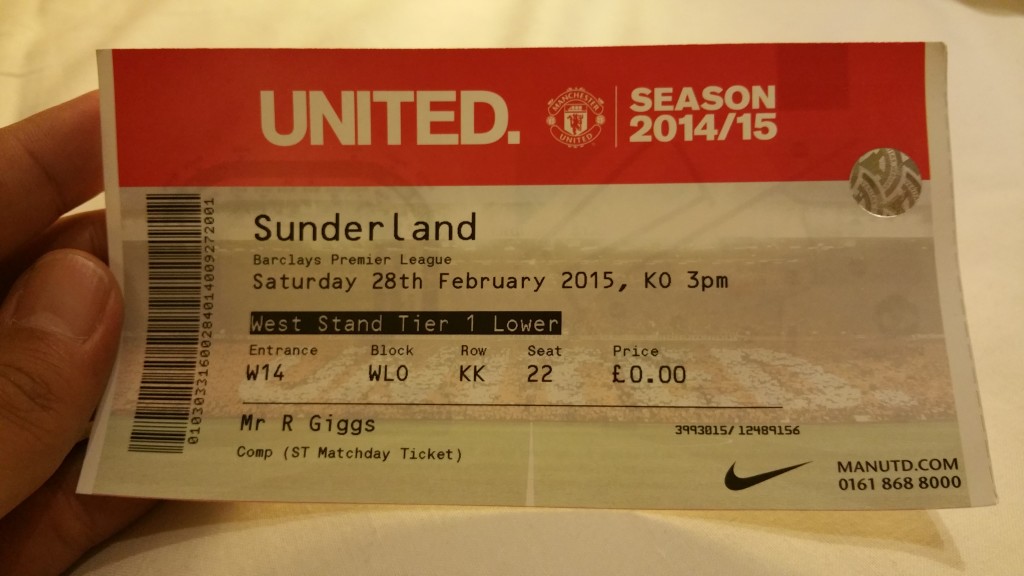 I shall let Randall share with you how he actually felt about that fateful match between Manchester United and Sunderland, because all I did was relish the atmosphere of an exhilarating LIVE football match with crazy amazing seats! Of course, I did wish I was experiencing a KOP side seat to a Liverpool game instead but THAT shall continue to remain on my bucket list. Nonetheless, I was still delighted at the mere fact that football legend, Ryan Giggs actually GAVE us tickets to catch this match, ( even if he only signed off on it. Ha! ) SCOORRRREEEE!!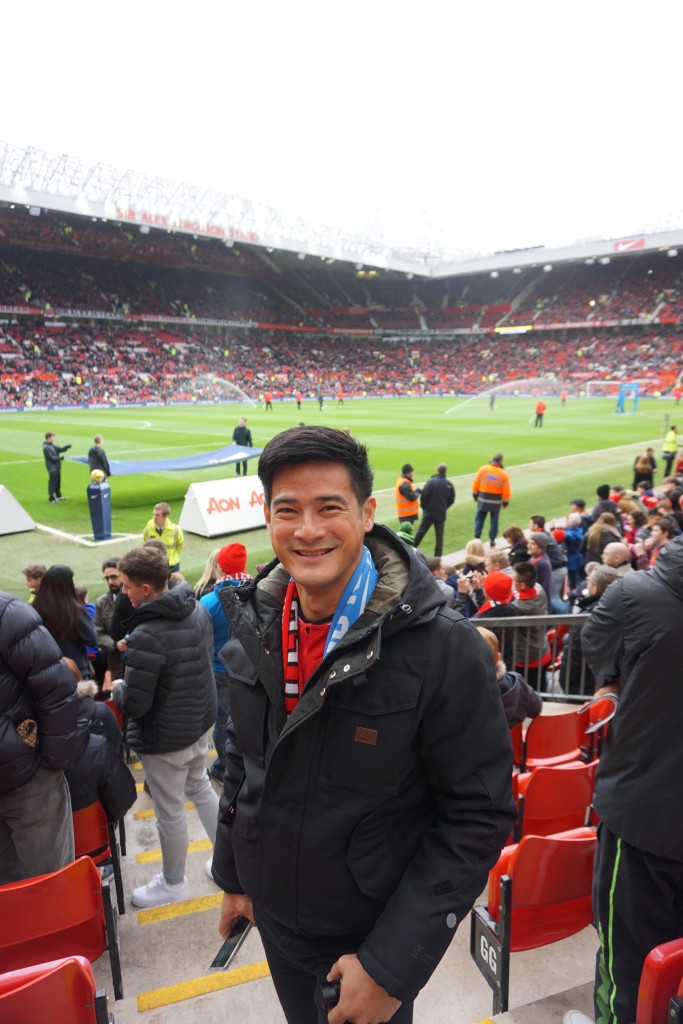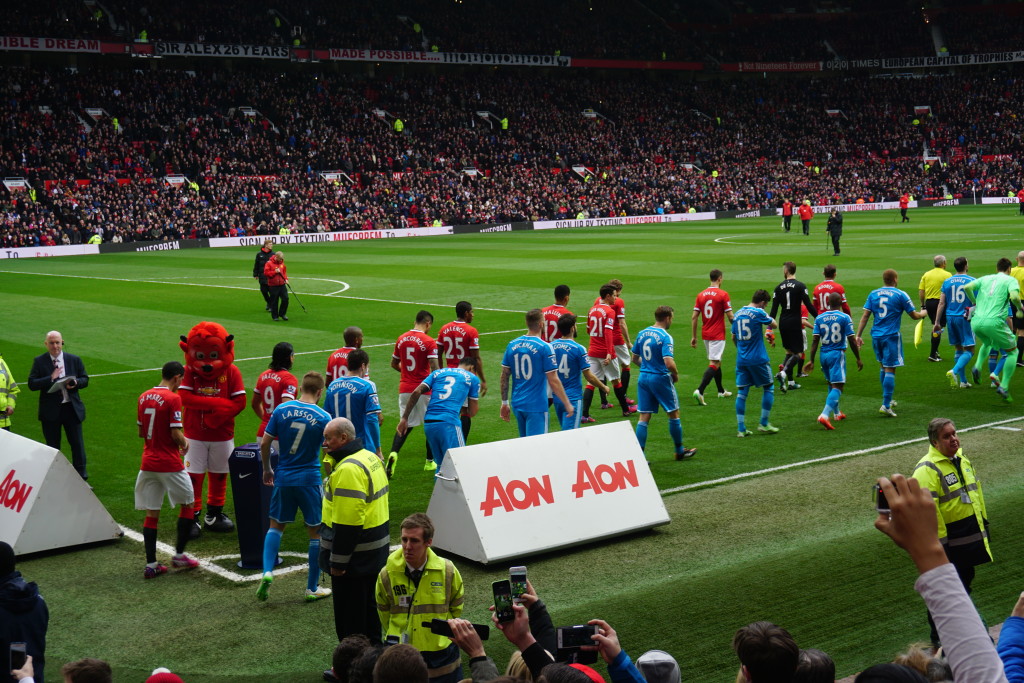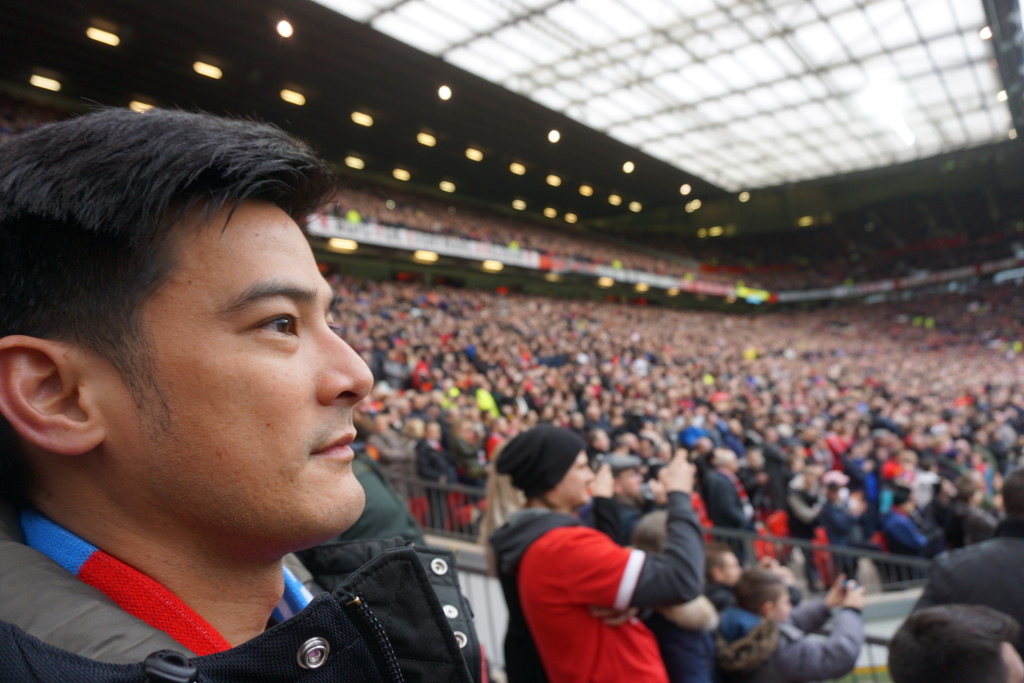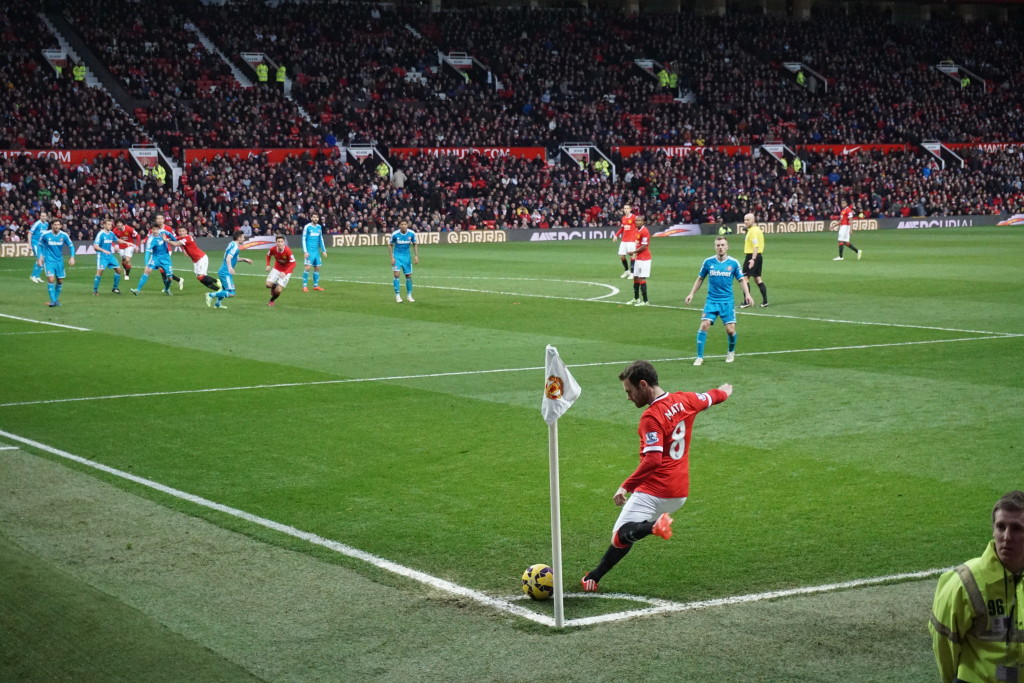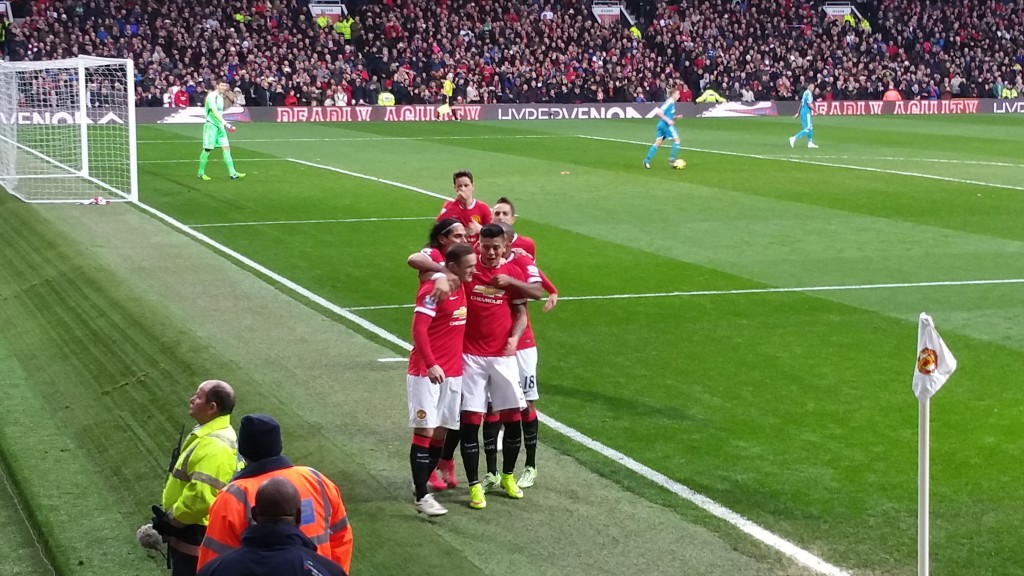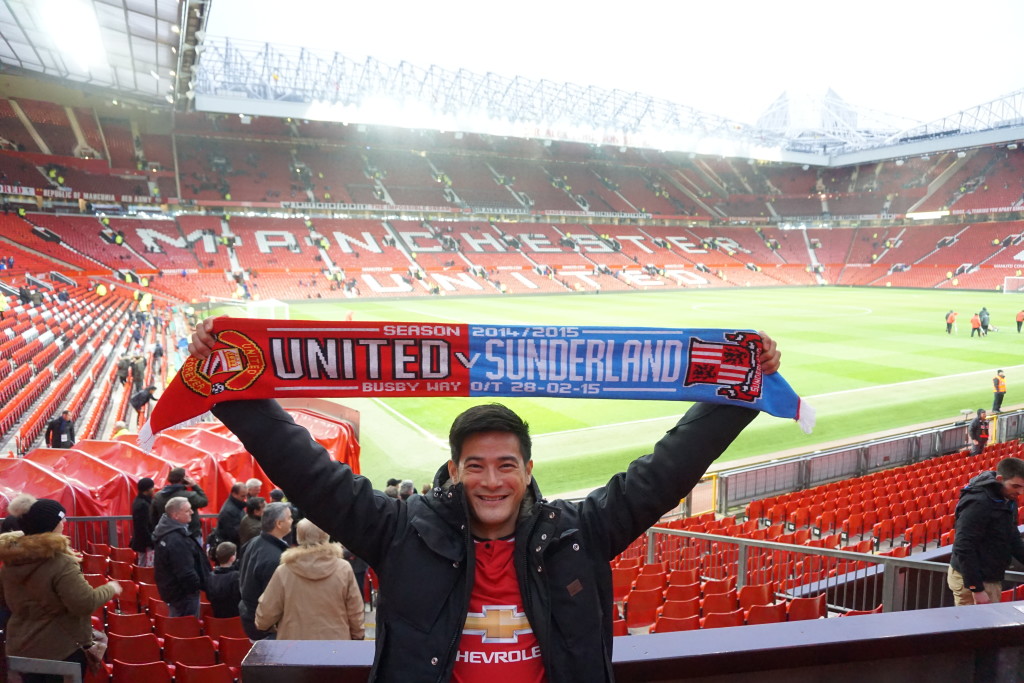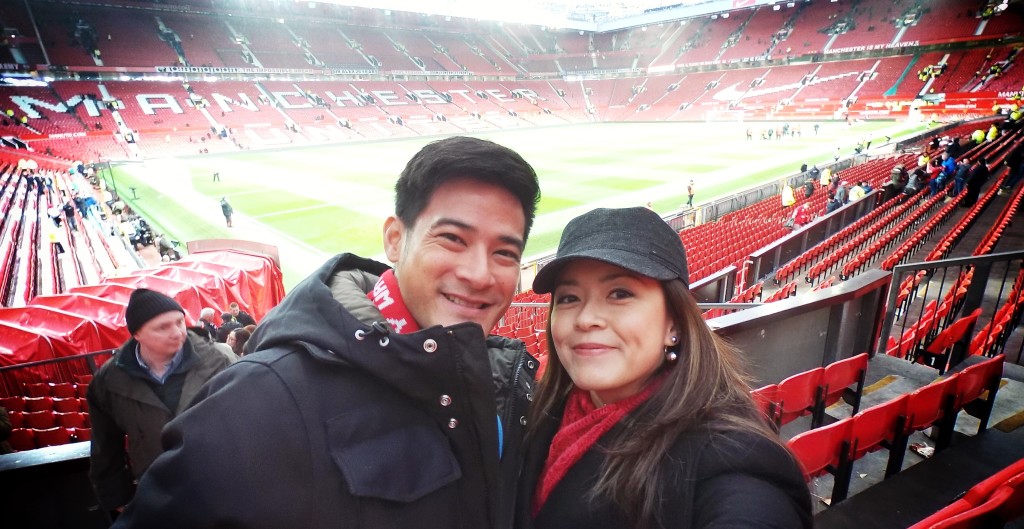 After the game ( which Man United sweetly won, of course ), Randall and I walked back to Hotel Football to dine at Cafe Football which had a wide variety of mouth-watering menu choices for dinner. We played it safe with the usual English order of fish and chips and sticky date pudding which certainly tasted better than it looked!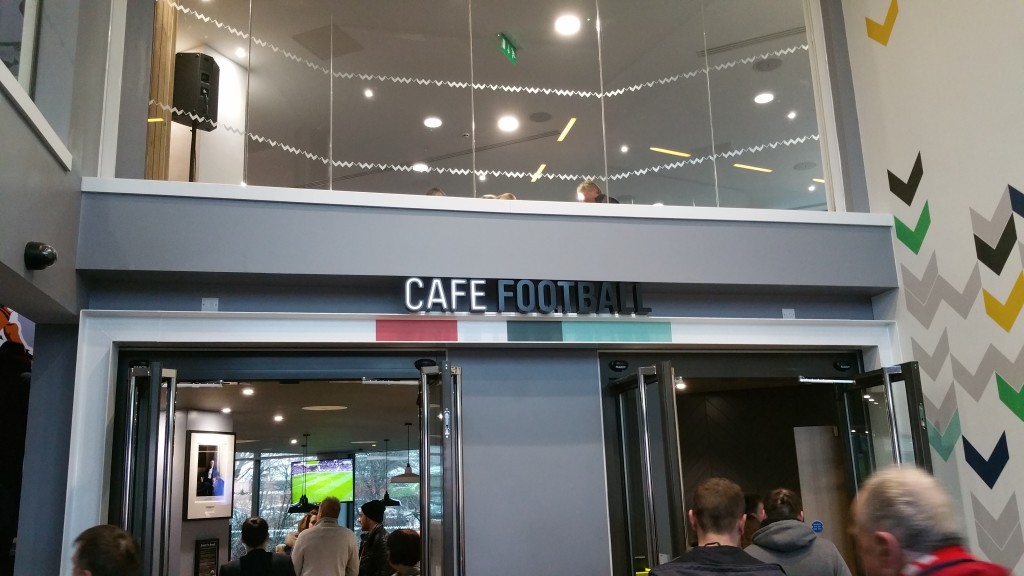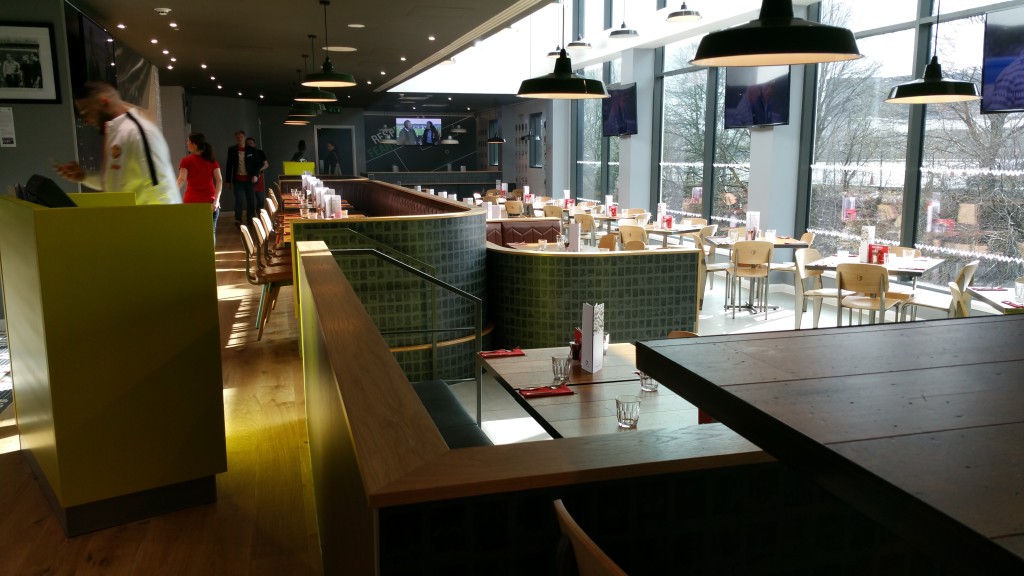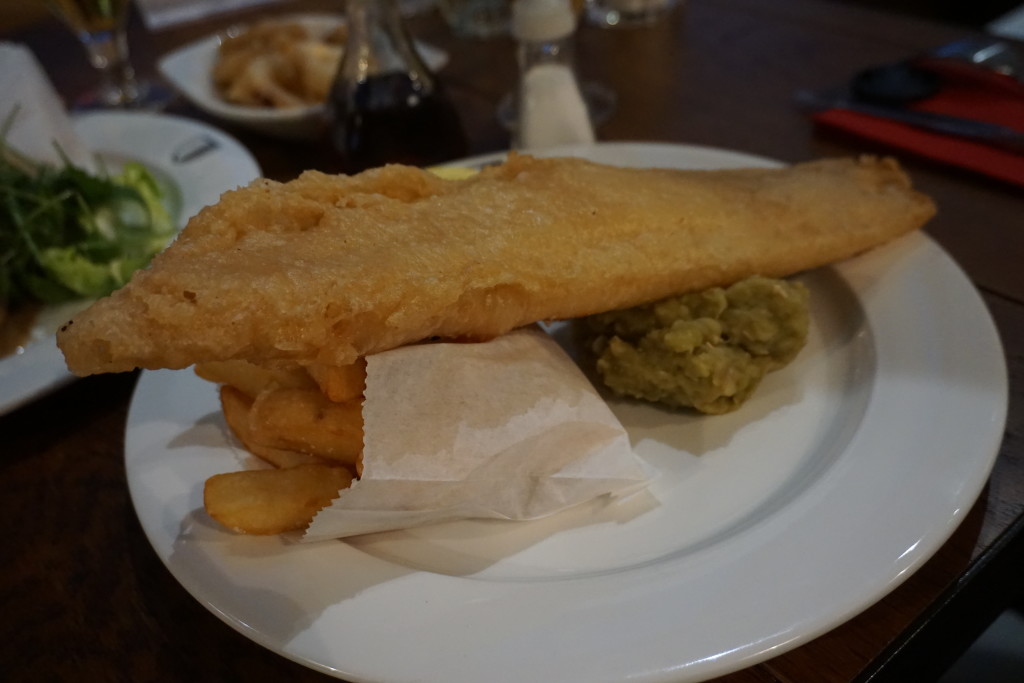 Before taking our leave, we dropped S a text to relate our gratitude for an extremely fun day and he replied that he will meet us at the entrance of the hotel. Thus, we gathered our coats and walked towards the reception when S surprised us by introducing us to Ryan Giggs. THAT was the absolute icing on the cake! Cue heart-palpitating fan boy! Randall was super ecstatic to meet him and so was I! I had met Ryan before when he was last in Singapore, so it was lovely to see him in person again.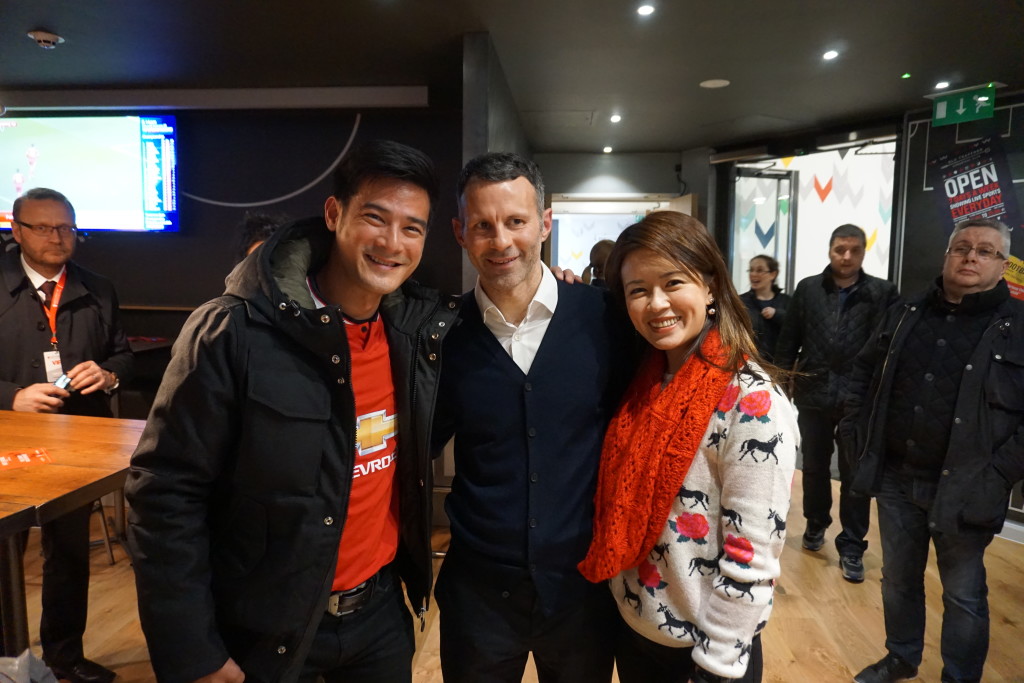 Thanks again, Giggsy!
Indeed, the husband had the biggest grin on the planet that evening as we made our way back to our hotel at Oxford Road. I bet the next time he gets a chance to visit Manchester, he will definitely insist on a stay at Hotel Football, for sure!
The next day, Randall and I checked out of our comfortable stay at Holiday Inn Express and took a taxi to Manchester Piccadilly station to catch another Virgin train back to London's Euston Station.
An exciting week in London awaits!
---
** If you are keen to plan your own trip to Old Trafford and stay at Hotel Football, visit http://www.theexperienceconcept.com/trafford to find out more!
---