Day 3/16 : MON 23rd February 2015
At that ungodly time of 4:57 am on Monday, Randall and I boarded the first South West Train from St Denys ( Southampton ) to London's Waterloo Station. The ride took about an hour and 45 minutes and from Waterloo, we transferred over to the underground tube ( large luggage in tow! ) to travel to Euston Station. From Euston, we then trudged over to St Pancras International Station to board the Eurostar for Paris. Phew!
Indeed, all this commuting hassle could have been avoided with a direct flight to Paris from Southampton but we chose not to forfeit our pre-booked train tickets at such a last minute notice. Furthermore, we would have missed out on the opportunity to enjoy a picturesque view from the Eurostar train enroute to Paris. The two hours and 48 minutes Eurostar train ride on First Class seats were extremely comfortable and worth every cent.
We arrived at Gare Du Nord station at high noon and randomly grabbed a taxi transfer to our booked apart'hotel – Citadines Saint-Germain-des-Prés Paris. Randall had stayed there before on a work trip and loved it, so it was an easy choice of accommodation for us. Citadines was located on the banks of the river Seine and our room was spacious enough to leave the queen-sized Murphy bed down all the time. After a quick check-in and freshening up, we hopped out for a little exploration around our area.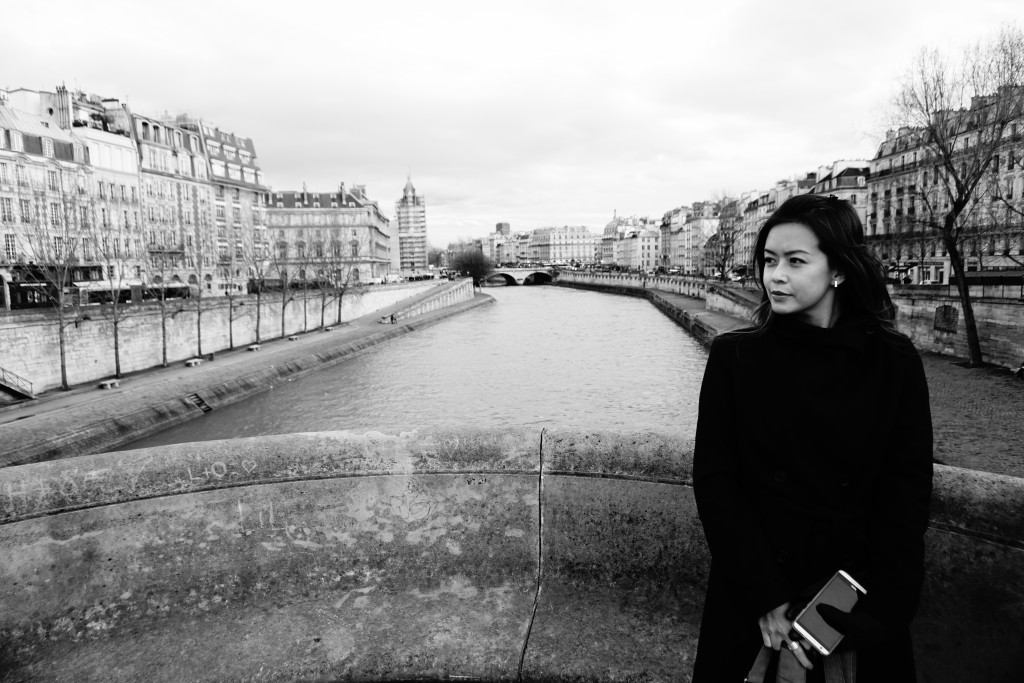 First stop, we randomly walked into a nearby cafe to grab a quick bite and I was yearning to order a french onion soup. Aye, that's me, THE TOURIST on her virgin trip to Paris. Well, the soup was not exactly mind-blowing as I had hoped ( Randall's late French uncle, Dede still makes the best FOS I've ever tasted! ) but it sure hit the spot on a cold 9 degree afternoon.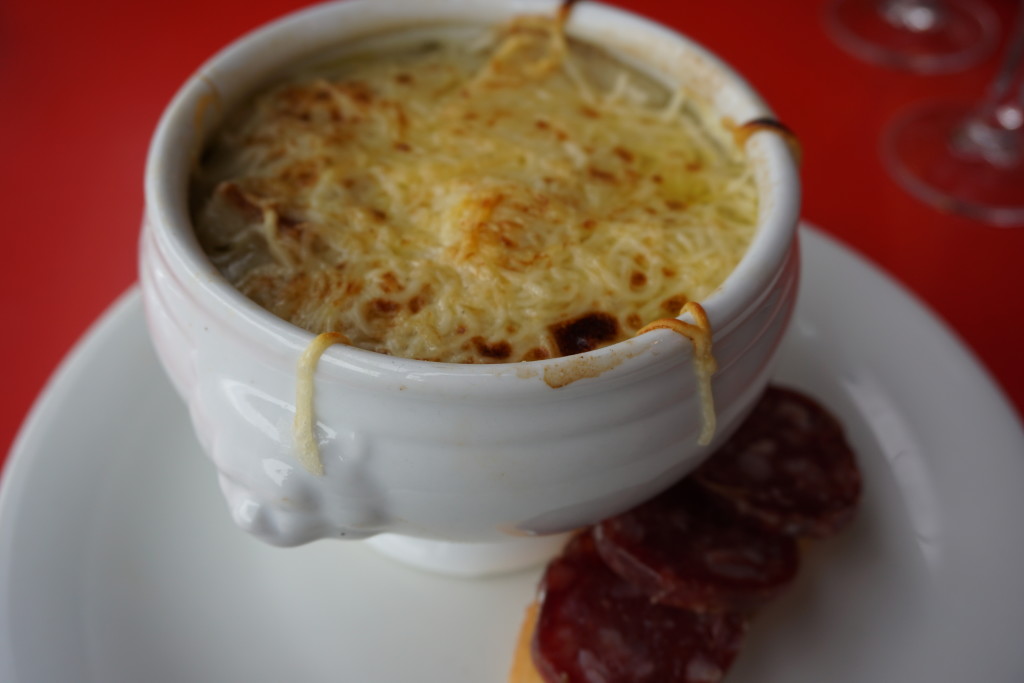 Once our bellies were warmed up, Randall and I walked towards Pont des Arts which is the infamous Paris bridge with thousands of tiny padlocks ( or rather "love locks" ) latched onto the grilles by hopeless romantics who have dedicated their wishes with it and thrown the keys into the river. It was certainly tempting to do the same but we decide not to contribute to the already heavily weighted bridge and took a selfie there instead. In fact, a campaign was launched around that time to have all the locked grilles removed and eventually replaced with transparent panels and to encourage tourists to take selfies there instead. DONE!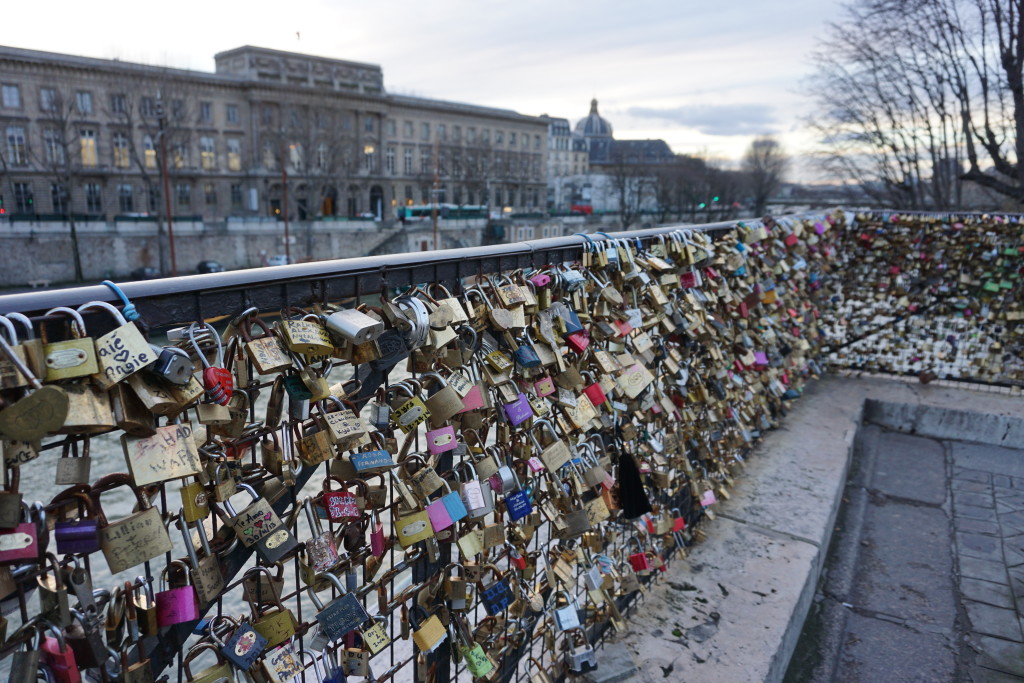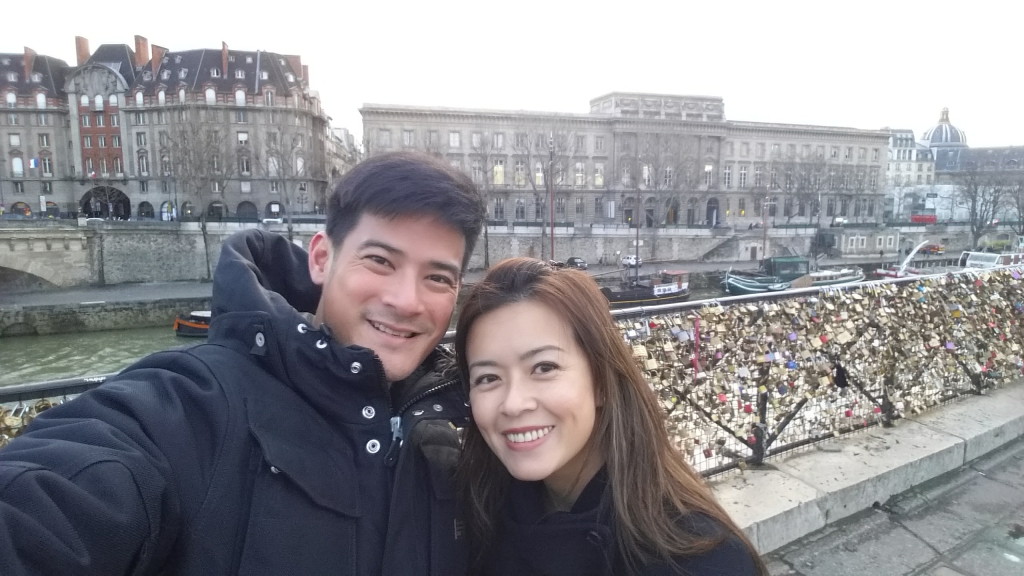 We then continued walking towards the Musée du Louvre which is THE museum of all museums to see in this lifetime. It is one of the largest museums in the world with an extensive collection of art sculptures, paintings, antiquities and drawings which dates back to 1793 and it even houses the real Mona Lisa painting by Leonardo da Vinci. The museum had already closed for the evening so it was a perfect timing to witness the "glass pyramid" with all its night lights and the bright red Rose Line cutting through the panels right in the middle. Gorgeous sight.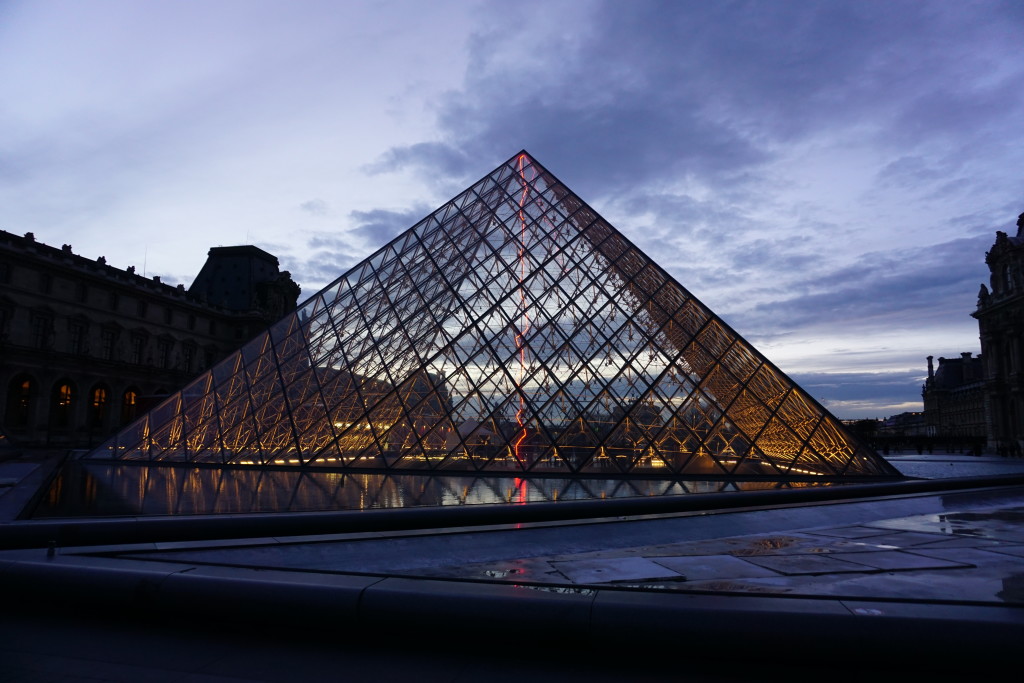 Randall and I were certainly looking forward to spend the next day at the Louvre so he made sure that we had pre-booked our Paris Passes to fast track the morning queue. I swear it's a MUST-HAVE for any tourist exploring a new city and so far it has been a blessing to have that on all our travels. We continued to spend another hour absorbing the sights around the vicinity, stopped by another random cafe for dinner and then headed back to our aparthotel to call it a night.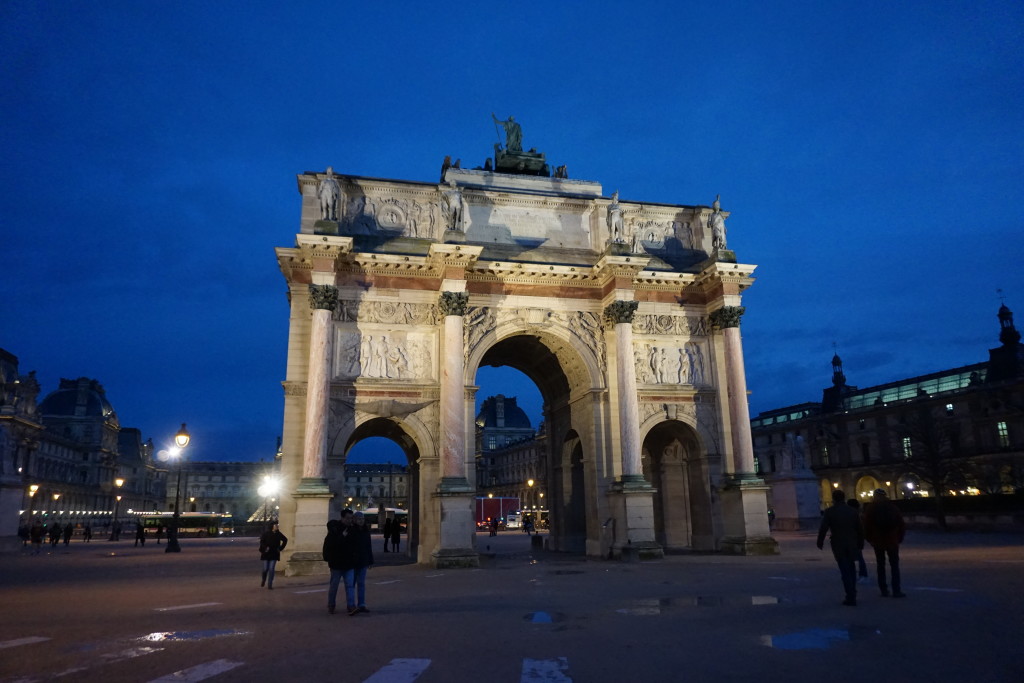 Another day in Paris beckons! 🙂
Day 4/16 : TUE 24th February 2015
Bonjour Paris! After all that commuting the day before, Randall and I literally knocked out for the night and woke up bright and cheery for an eventful day ahead! Breakfast was included in our hotel stay so we enjoyed a surprisingly delectable continental buffet spread at the lounge. I just love how croissants stay crisp and fluffy in cool Paris weather!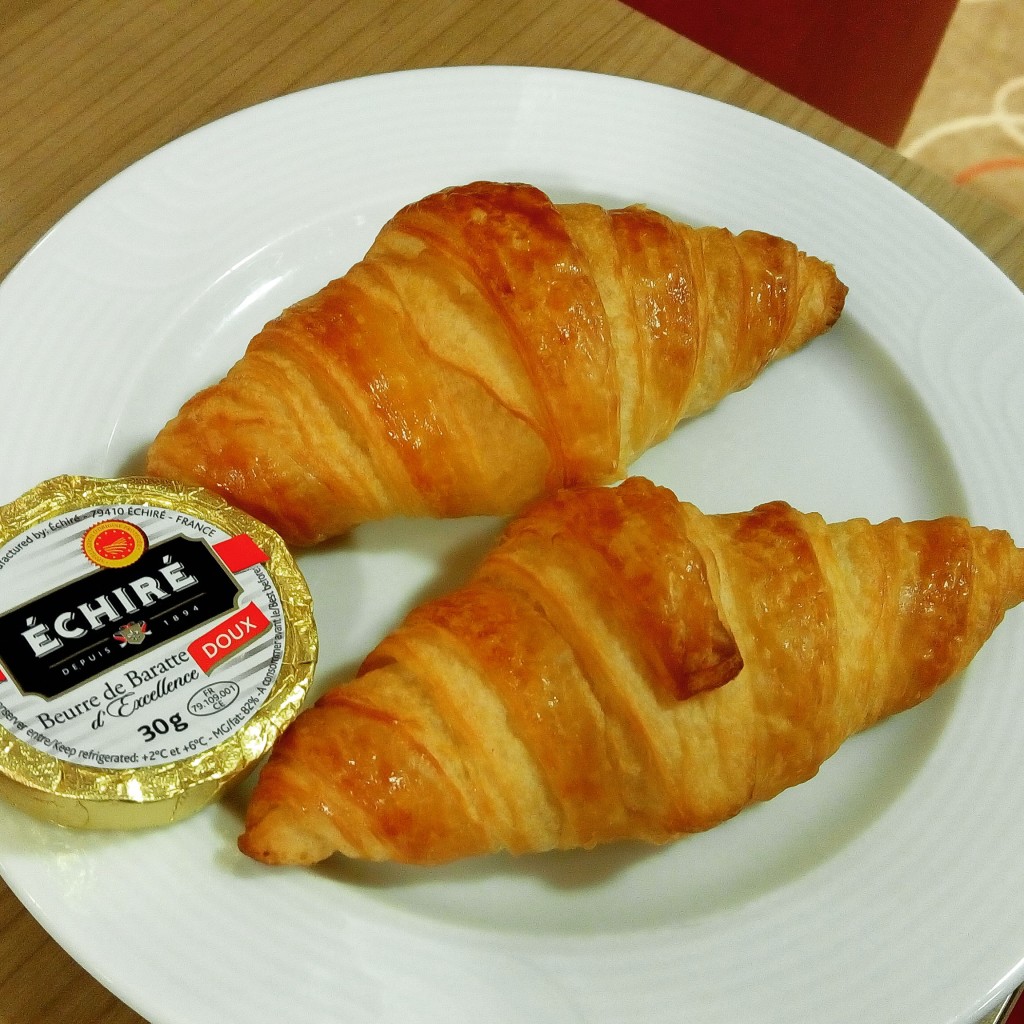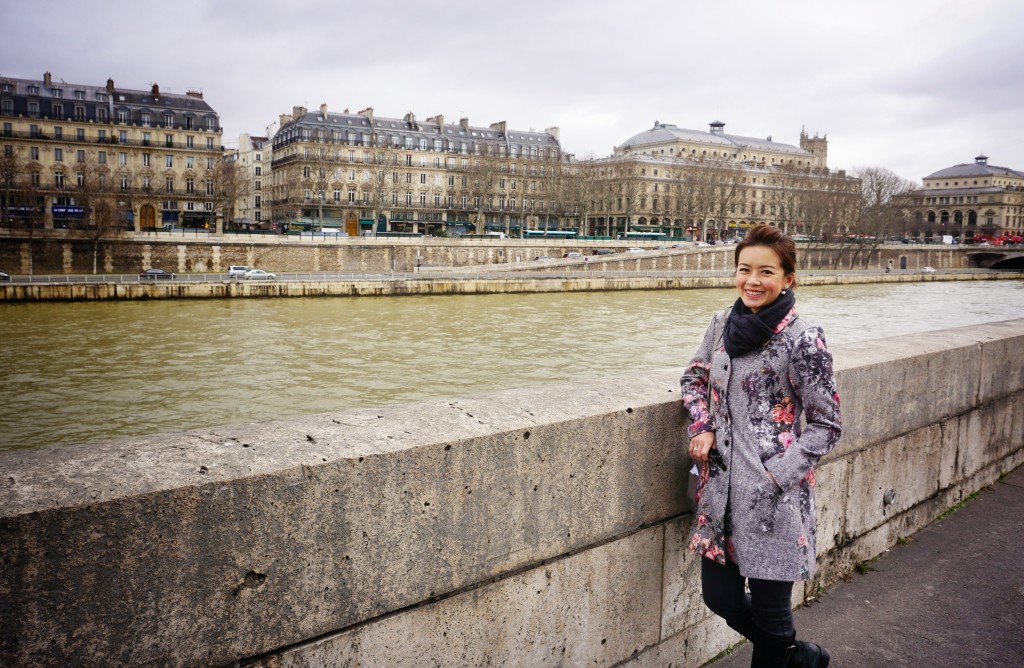 Speaking of WEATHER, the sky was overcast that morning as we stepped out of the Citadines, with a little sunshine peeking out behind the clouds just to warm our noses. Like homing pigeons, Randall and I brisk walked the same route back towards the Musée du Louvre but as we approached the main entrance, we started to wonder why it seemed a little quiet and deserted. It was then that we found out the museum closes on TUESDAYS. Oops! 
Undeterred, we walked over to the Cathedral of Notre Dame which was just a 5 minute walk away. And the cathedral was truly as magnificent and breath-taking as they all say. The facade of the historical church was pristine and well-maintained with intricate details which seemed pretty mind-blowing to imagine how they carved it all out during that century. We spent several minutes capturing some picturesque shots around Notre Dame before making our way in.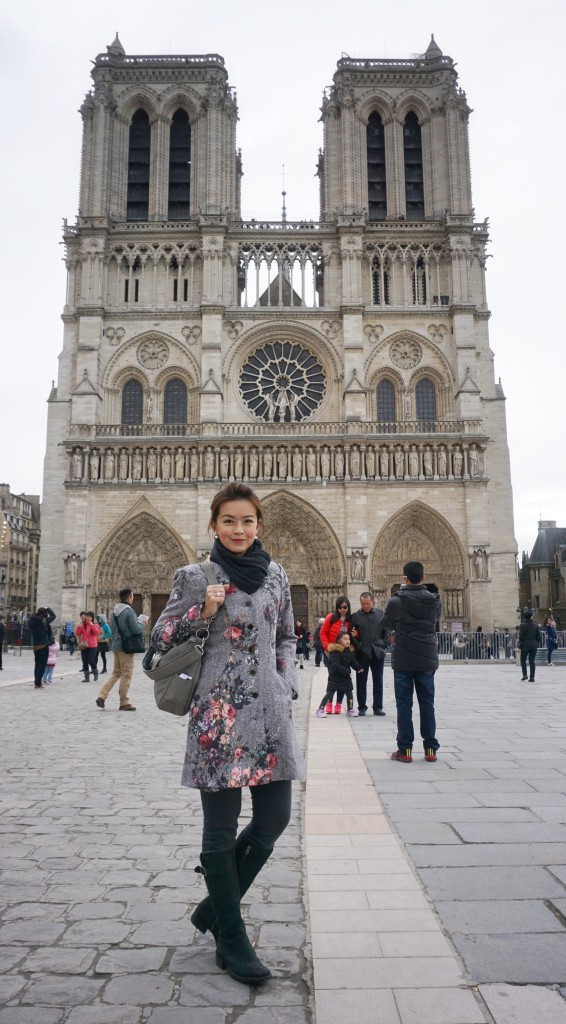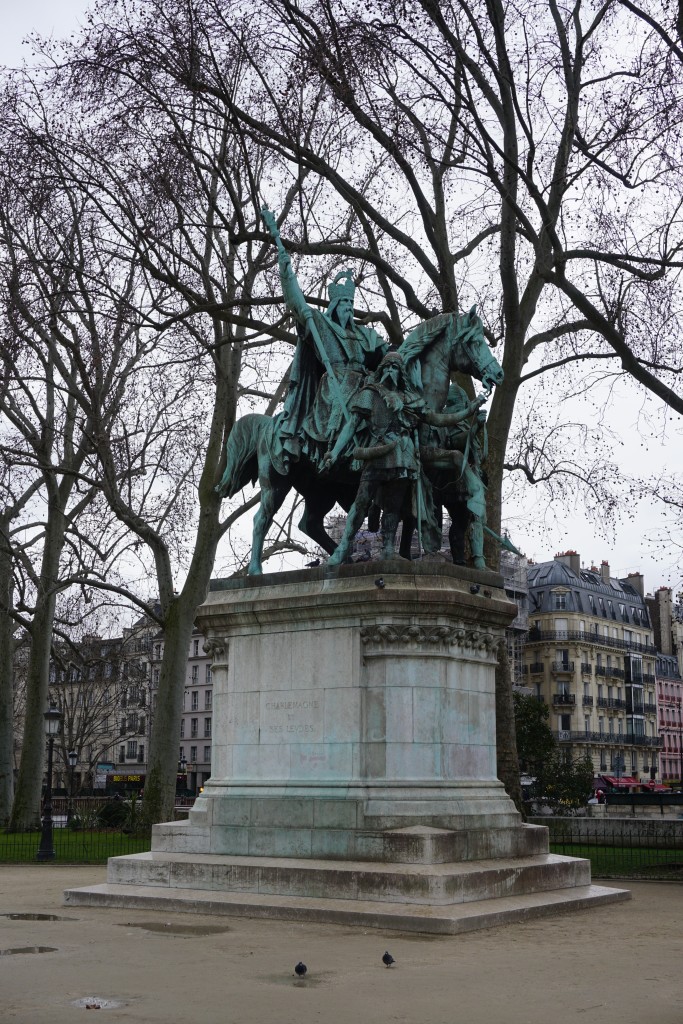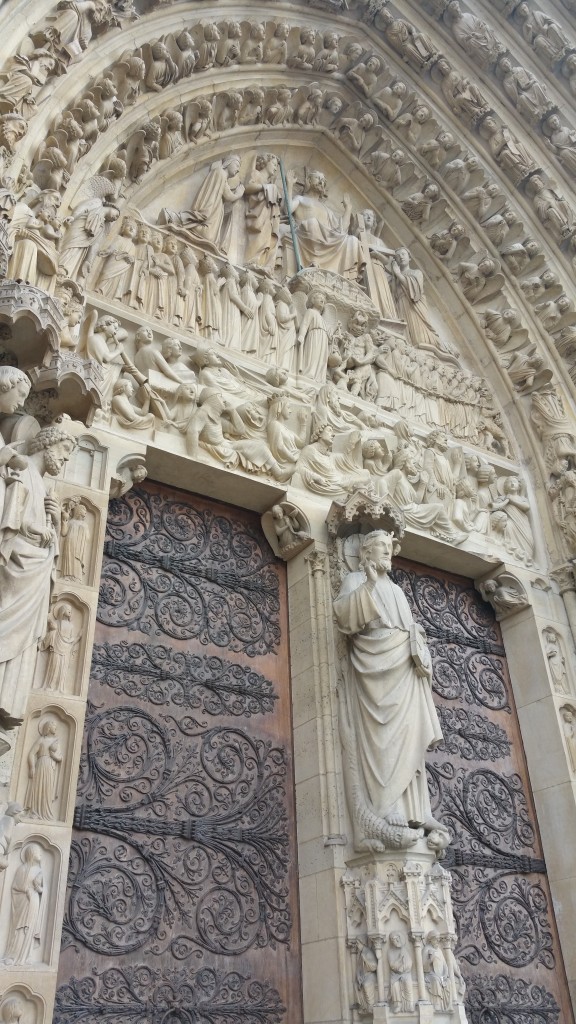 As we entered the holy sanctuary of worship, there was a sense of peace and serenity that I felt which was hard to fully describe. We lit some prayer candles, made a little donation as well and took our time to tour the dimly lit halls of the sacred hall.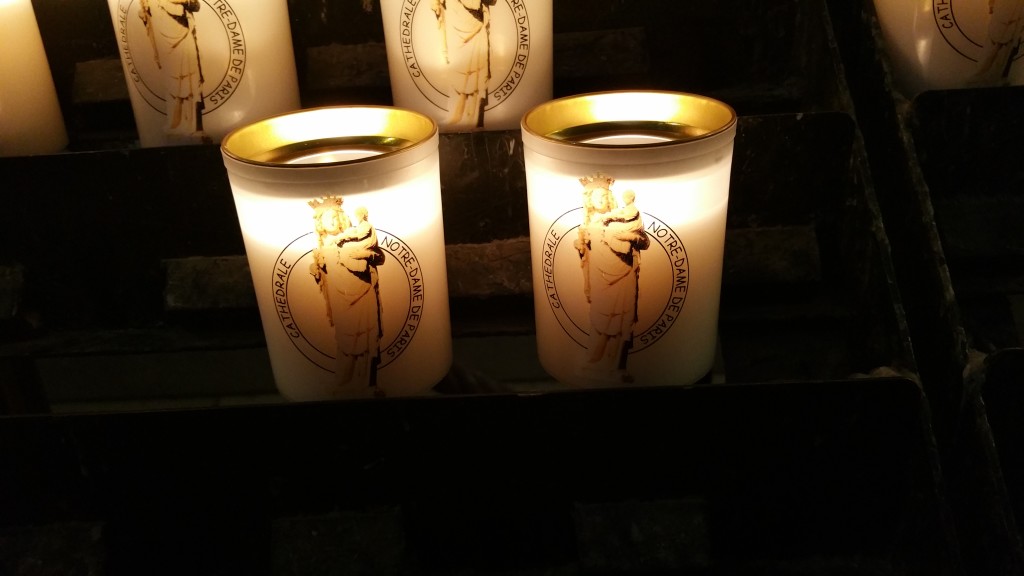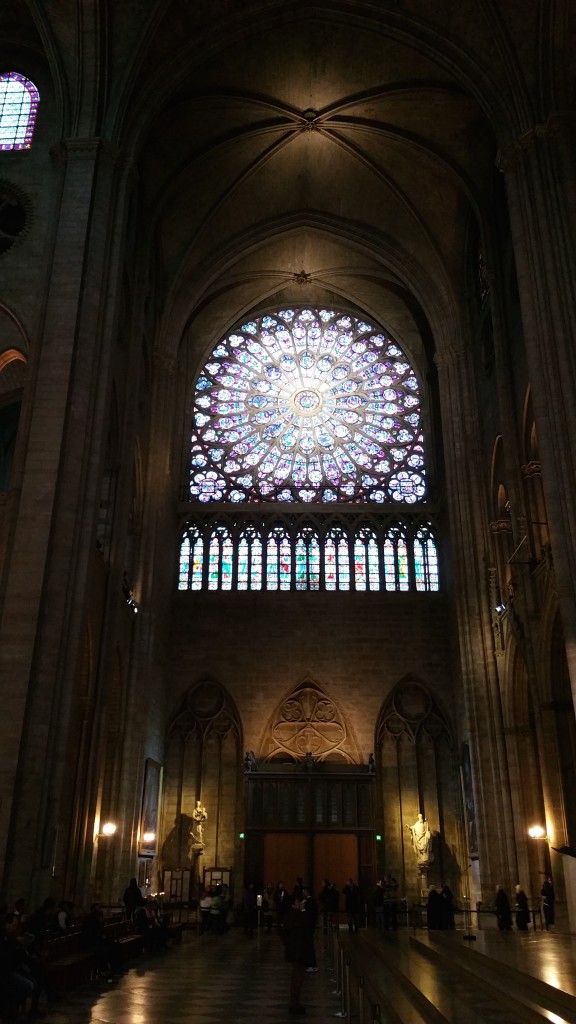 Randall and I both left Notre Dame feeling at peace and we went on to explore further around the area. It was near Boulevard St Michel when we spotted the Fontaine Saint-Michel which was a monumental stone fountain created in the 1800s, depicting sculpted figures of archangel St Michel slaying a dragon. I have always had an affinity for angels and St Michel was one of my favourites. We finally chanced upon a cafe called Café Le Bonaparte and enjoyed a decent Monte Cristo sandwich there.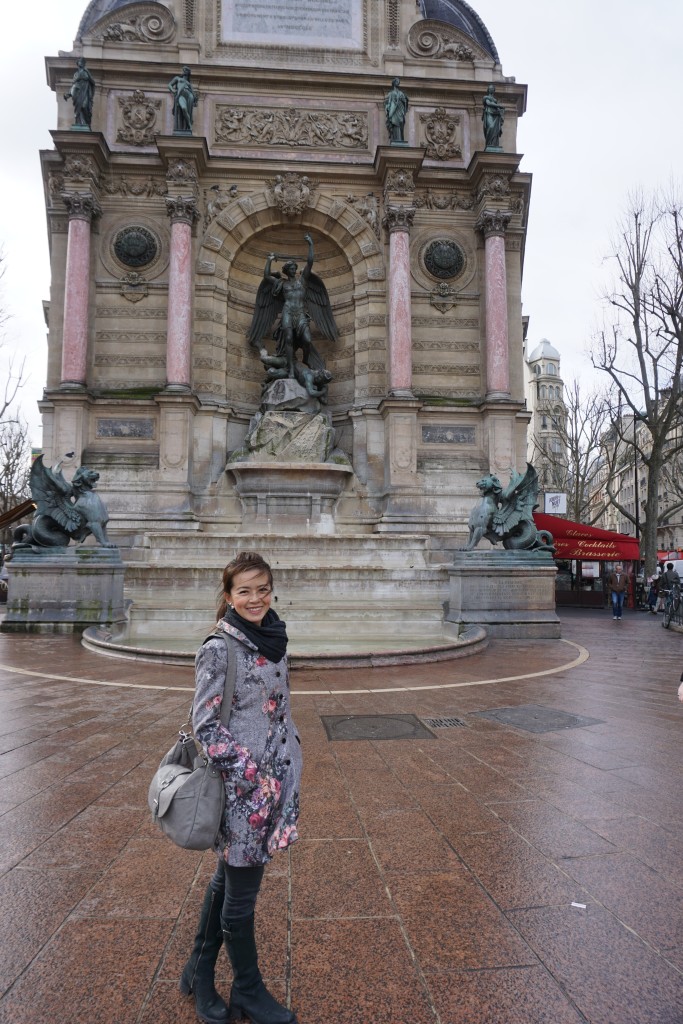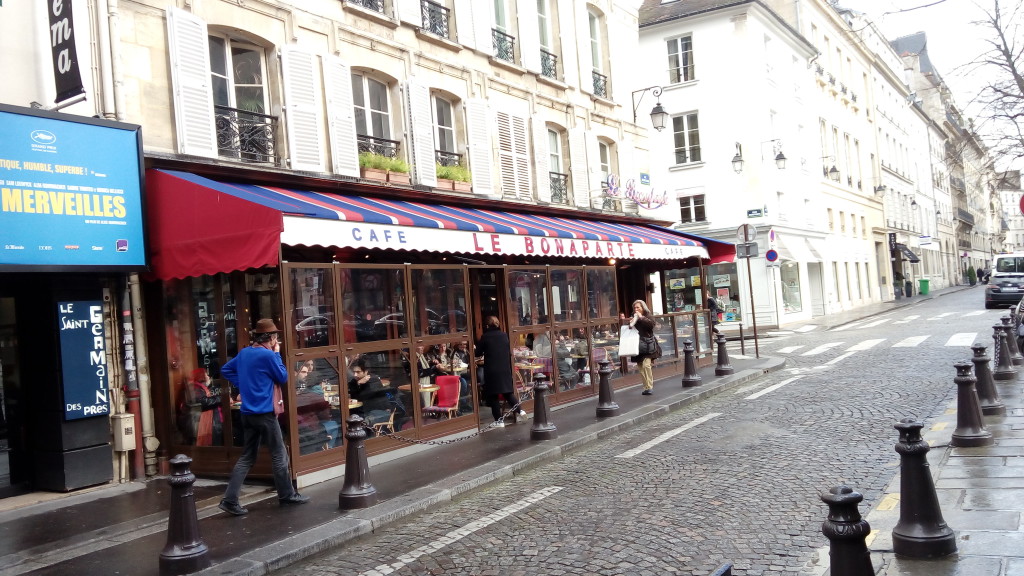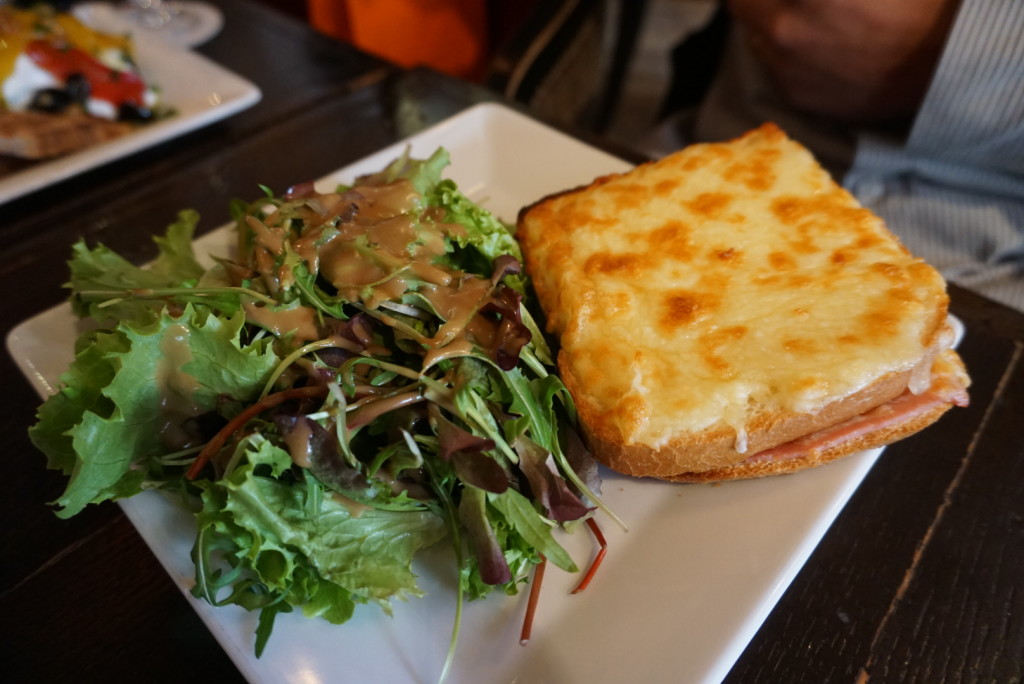 During lunch, we had discovered that two of our friends Rachel and Tony were also in Paris at the same time so we made plans to meet them at Musée d'Orsay after lunch but we instead of exploring the museum, the four of us decided to take a stroll through the grounds of Jardin des Tuileries which was a public garden across the road. The walk led us to the Grand Bassin Octogonal fountain and onto a mini fun fair near the Grande Roue ferris wheel. How delightful!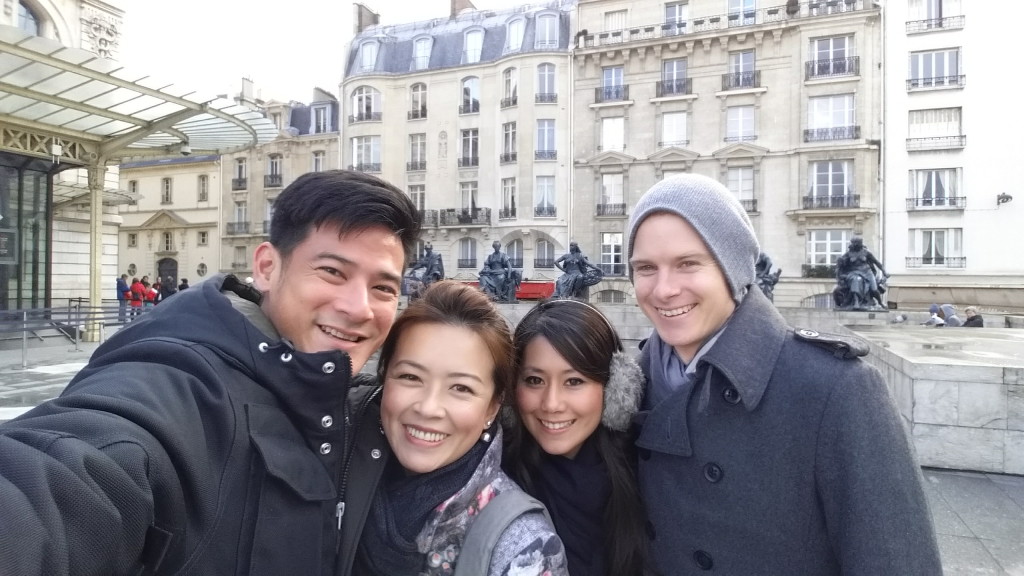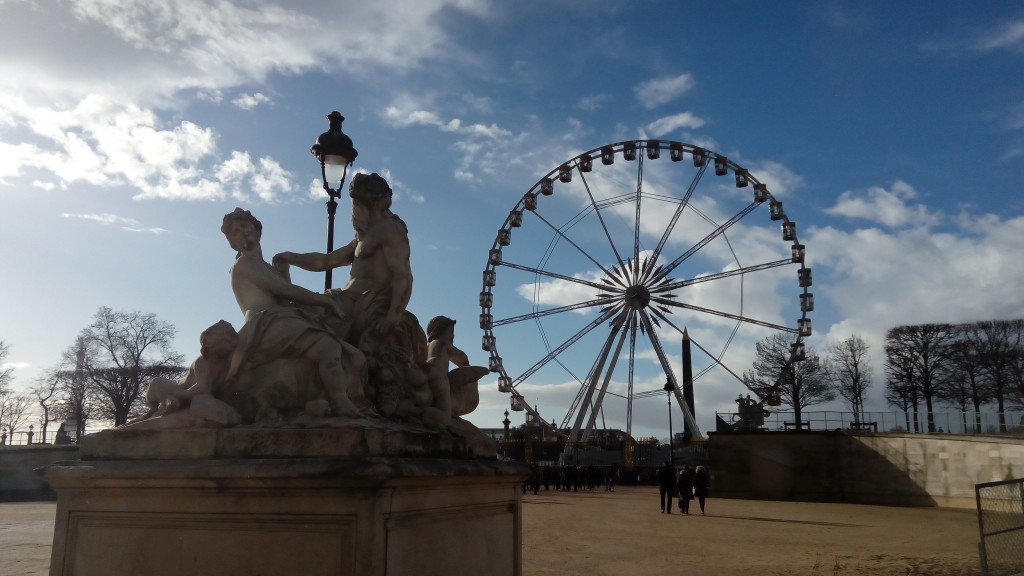 We then crossed over the huge intersection at Place de la Concorde and headed towards the Arc Du Triomphe which is one of the most famous monuments in Paris. Needless to say, there were moments of window shopping along the way while walking the entire 1.9km stretch of Avenue des Champ Élysées. I had kept a mental note of all the different shops which called out to me for some retail therapy to be pacified on another day.
As we approached the Arc de Triomphe de l'Étoile, I was awe-struck with the magnitude of the iconic triumphal arch which was built in 1806 to commemorate Napoleon's victories and it even has a rooftop observation deck for tourists to climb up to and enjoy a bird's eye view of Paris.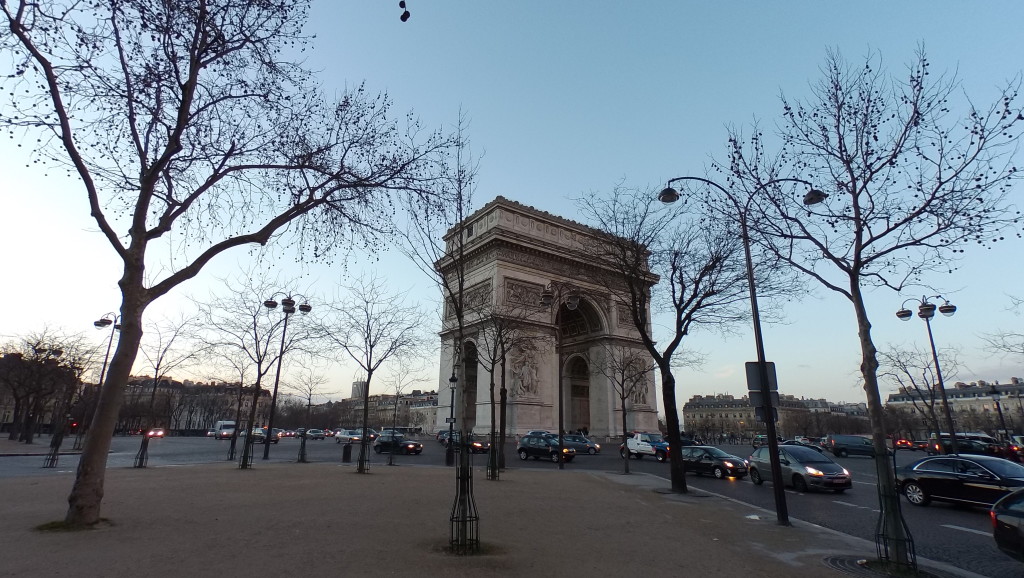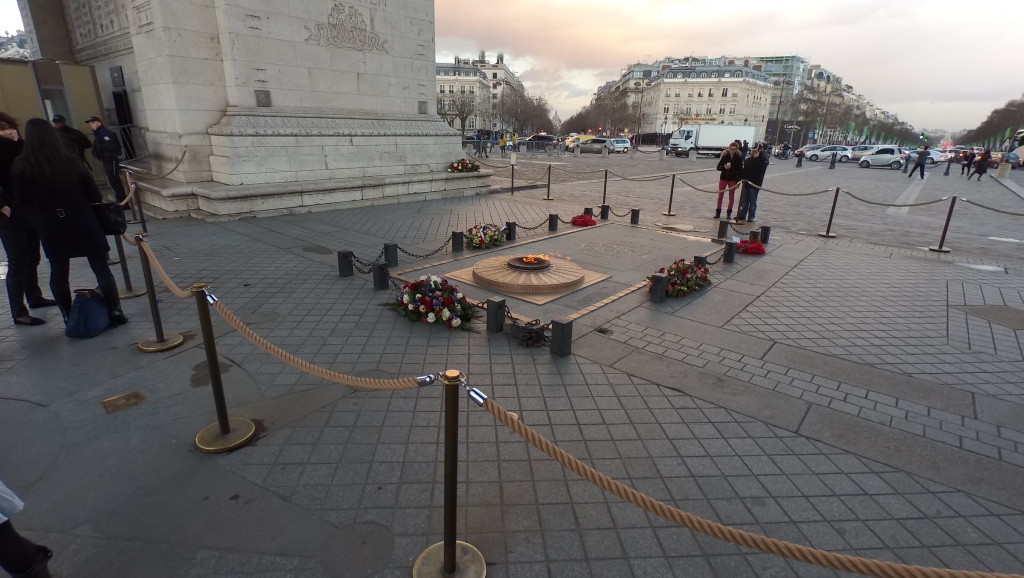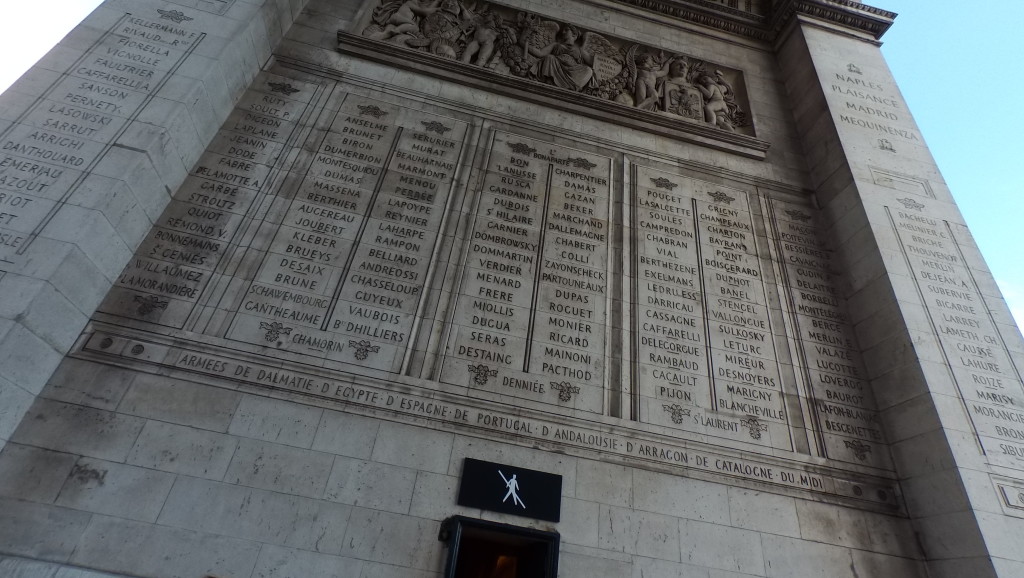 We got our visitor passes at the ticket booth located beneath the Arc and climbed our way up to the rooftop. Indeed, it was an amazing 360 degree view of Paris from there! You could easily spot the tiny Grande Roue ferris wheel and the infamous Eiffel Tower at a distance. I relished every bit of that moment soaking in the sights and sounds of Paris with my love as the sun started to set on us.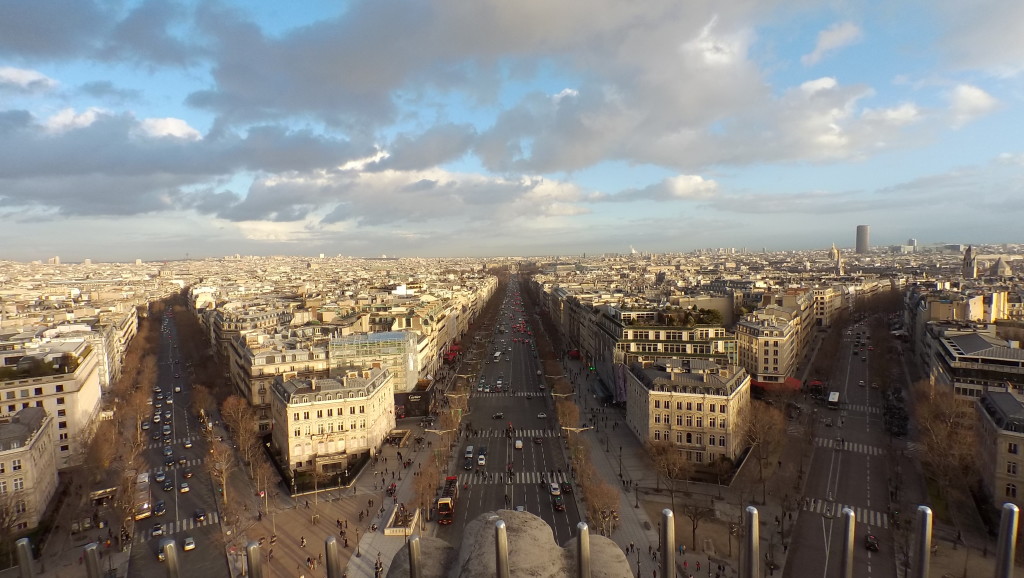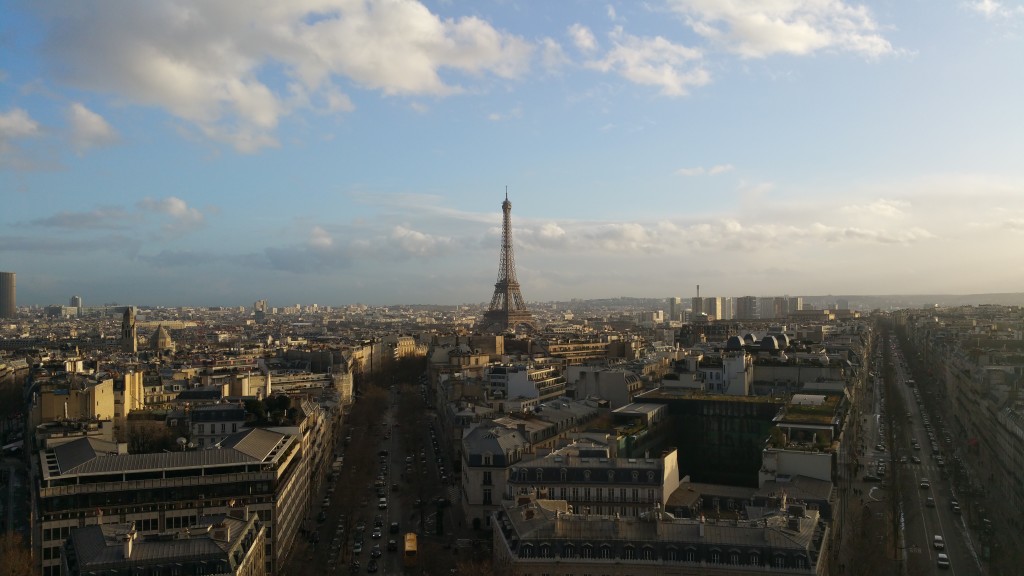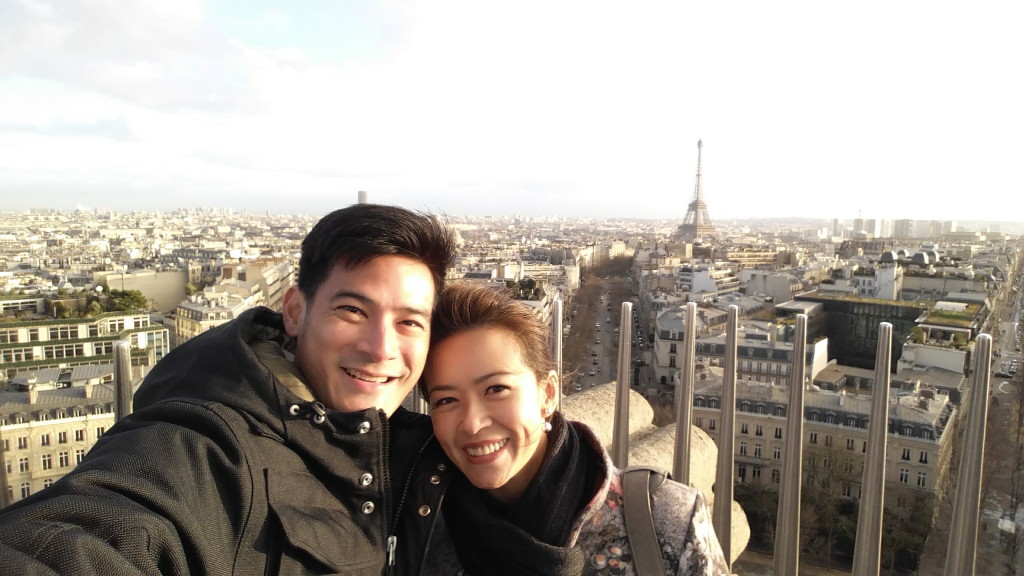 The way down the Arc was a long and tight spiral stairway which we paced through hurriedly ( and made me a little dizzy! ) because we wanted to see the Eiffel Tower before night fall. We got there just in time for the light show that illuminated from the tower and it was truly a stunning sight to behold!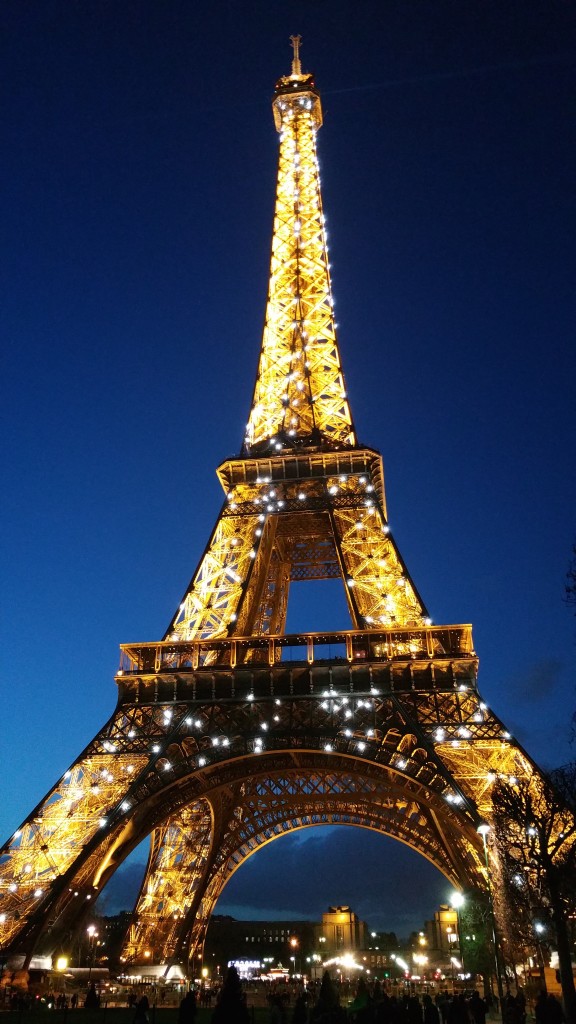 The four of us then shared a taxi back to Boulevard Saint Germain to scout for supper options and it was a unanimous decision to try the famous Café de Flore. And YES, I ordered another French Onion Soup. Finally, the one at Café de Flore is worth recommending! Super delicious.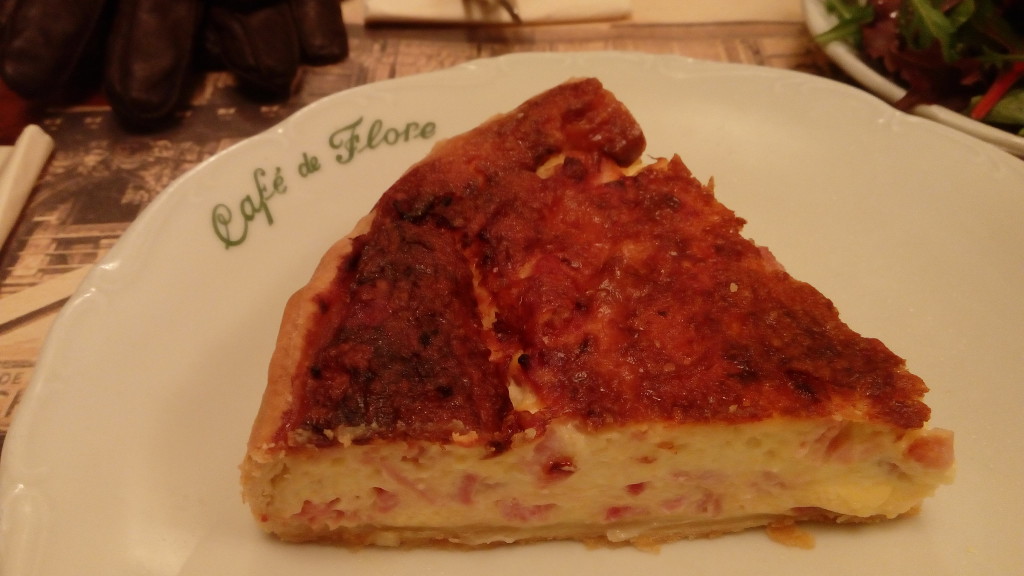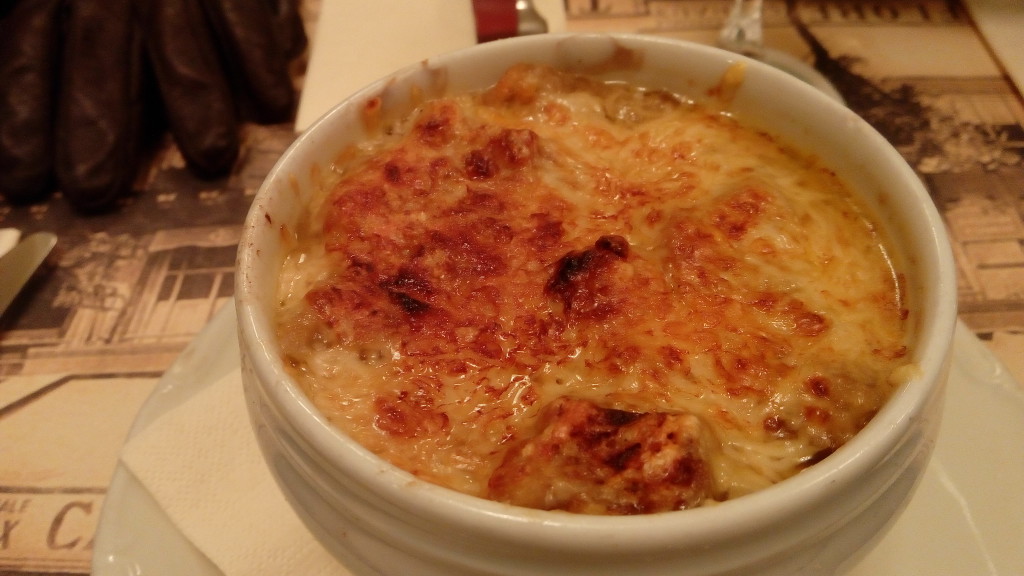 After supper, we bid farewell to Rachel and Tony and took a slow walk back to Citadines. It was really lovely to walk around in Paris during spring time and what a gorgeous day it turned out to be! Bonne nuit, Paris!
Day 5/16: WED 25th February 2015
It rained intermittently on our third day in Paris, so we decided to postpone the intended Louvre visit because we figured that it would be nicer to explore the open grounds of the museum on a clearer day. Hence, Randall and I decided to enjoy some retail therapy and make it a free-and-easy shopping day out.
We skipped breakfast at Citadines that morning and decided to try one of the nearby cafes along the way to Galleries Lafayette. Interestingly, there were not many breakfast options within the 2.5km route to Galleries, so we settled for Paris Baguette even though they had just opened a few outlets in Singapore, and the croissants in PB Paris were definitely crispier and fluffier. After a satisfying meal, we continued making our way to Galeries Lafayette on foot and soaked in some of the sights along Avenue de l'Opera.
When we entered Galeries Lafayette, I was completely floored by the sheer grandeur of the department store! The interior decor was classically modern with luxury brand counters at eye-level but when you look up, you will notice the beautiful art nouveau stained-glass dome ceiling and delicate ironwork of the balconies and banisters. Absolutely prestigious!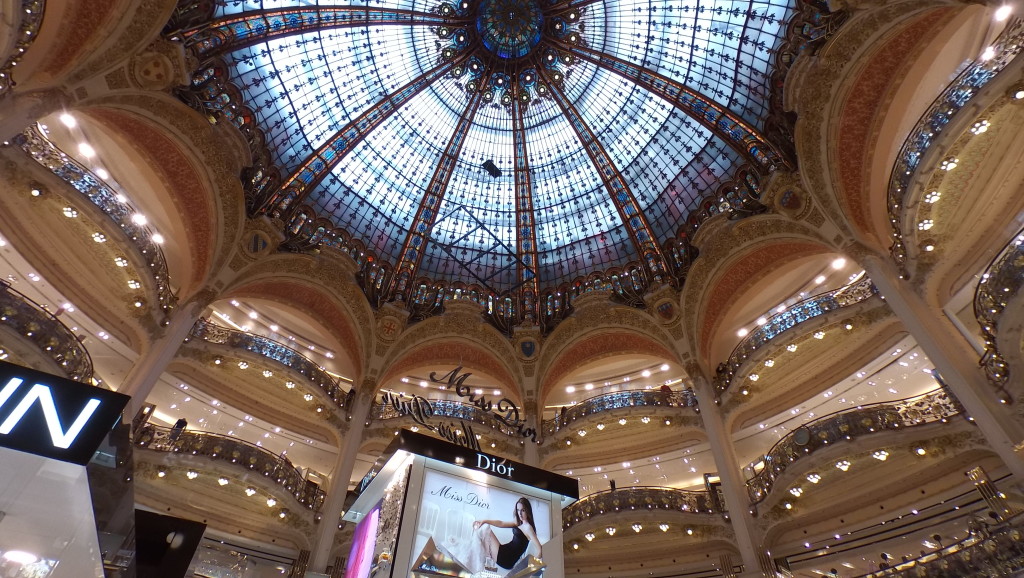 Randall and I decided to check out the basement level of the building first before moving on the upper levels and we chanced upon a food area serving cheese fondue. YES, it was the season for Mont d'Or Vacherin and we knew we HAD to have it. The warm cheese was served together with roasted jacket potatoes and crispy bread and we relished every creamy bit in that little round spruce box. It was definitely one of our best meals in Paris!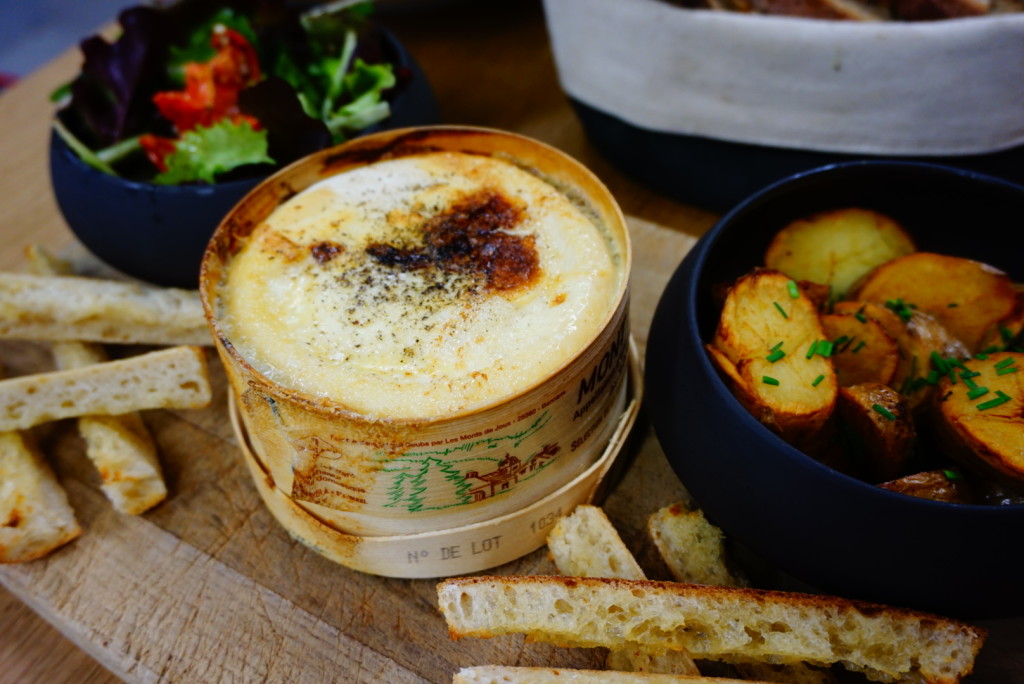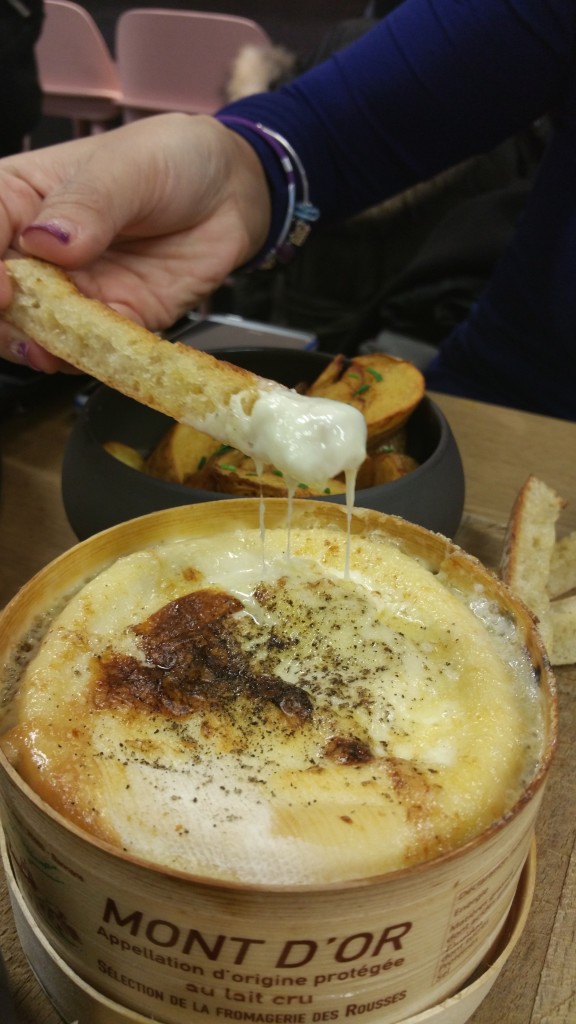 After that satisfying meal, our sweet tooth lead us to an array of delicious and colourful eclairs made by Christophe Adam for L'éClaire de Génie. I can't remember which one we eventually ordered but they ALL looked super good. Absolutely a must-try for all eclair lovers! 😛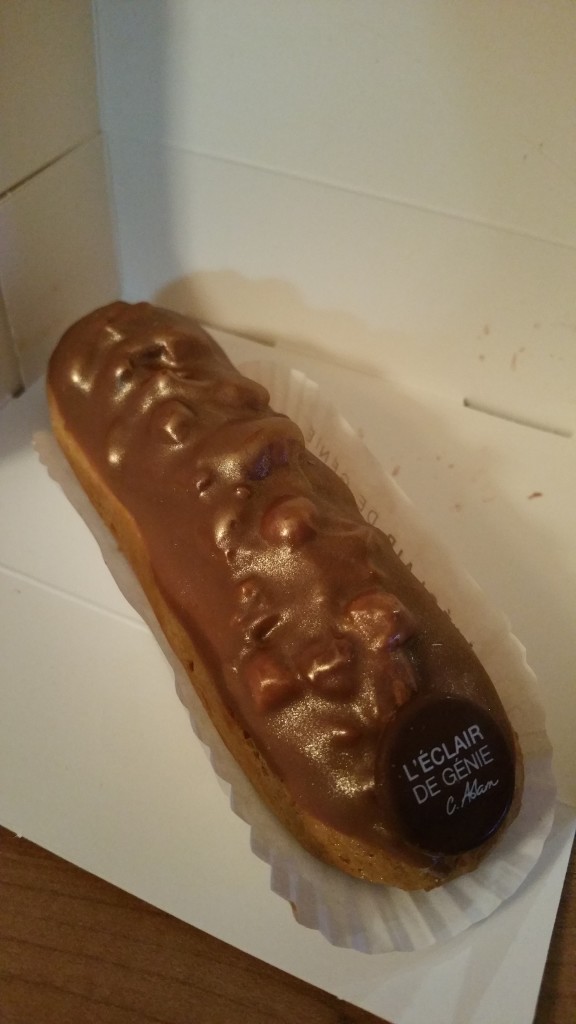 Now that we have stuffed our faces, it was time to check out the rest of the levels at Galeries. It wasn't long before I did set my eyes on something ( that would NOT have purchased back home ) and let's just say it was my FIRST luxury item and it was not made of leather. Woohoo! Hurray for VAT refunds!
After spending a few more hours at Galeries Lafayette, Randall and I walked back to Citadines via Champs Élysées where we popped in to several shops to get some souvenirs and knick-knacks. By the time we arrived back at the hotel, we were completely knackered but eager to begin another wonderful day in Paris!
Day 6/16 – THU 26th February 2015
It was another full day to experience Paris but we awoke to more rain outside. Charming! Oh well, rain or shine, it had to be a museum day. After an early breakfast at the aparthotel, Randall and I made our way on foot as usual to The Louvre and joined in the short "Paris Pass" queue at the main entrance. Even before the museum had opened at 9am, the normal queue for visitors had already reached its maximum capacity within the barriers and snaked all the way out to the street.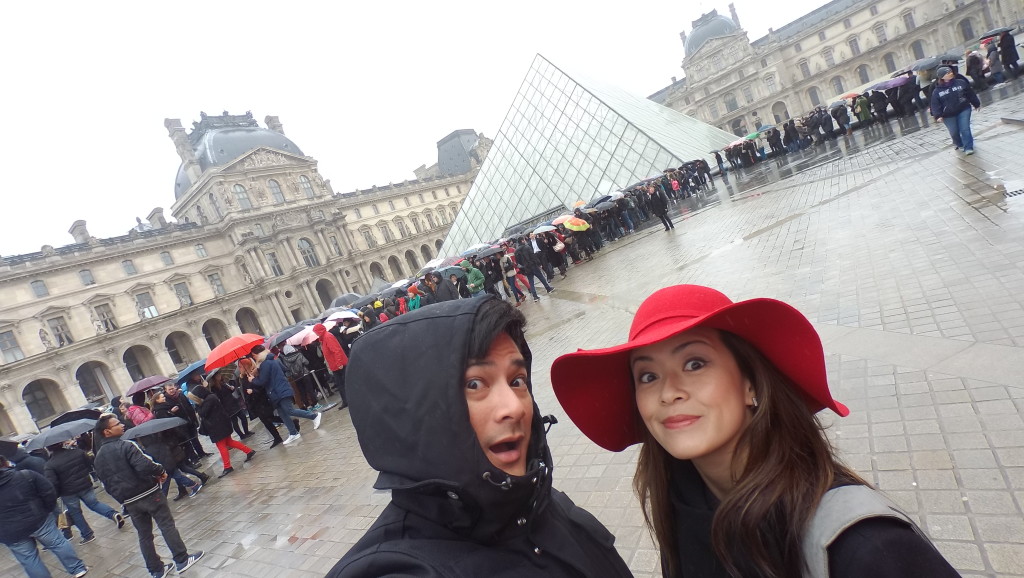 Not long after the doors were opened, we were quickly ushered into the museum and we made a strategic plan to hunt for Da Vinci's painting of Mona Lisa first. We were advised to do that before the crowd comes in and swamp the high security area.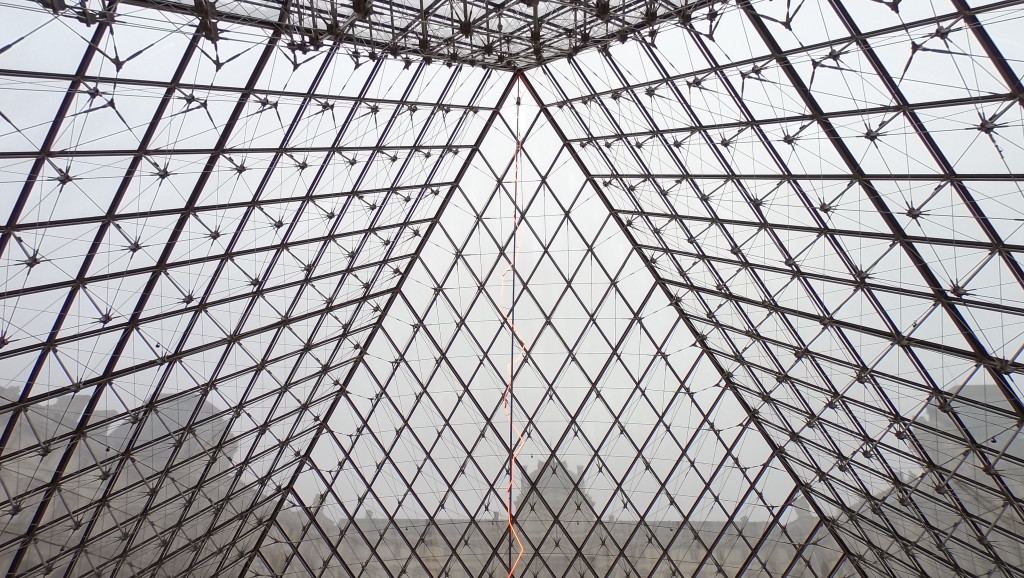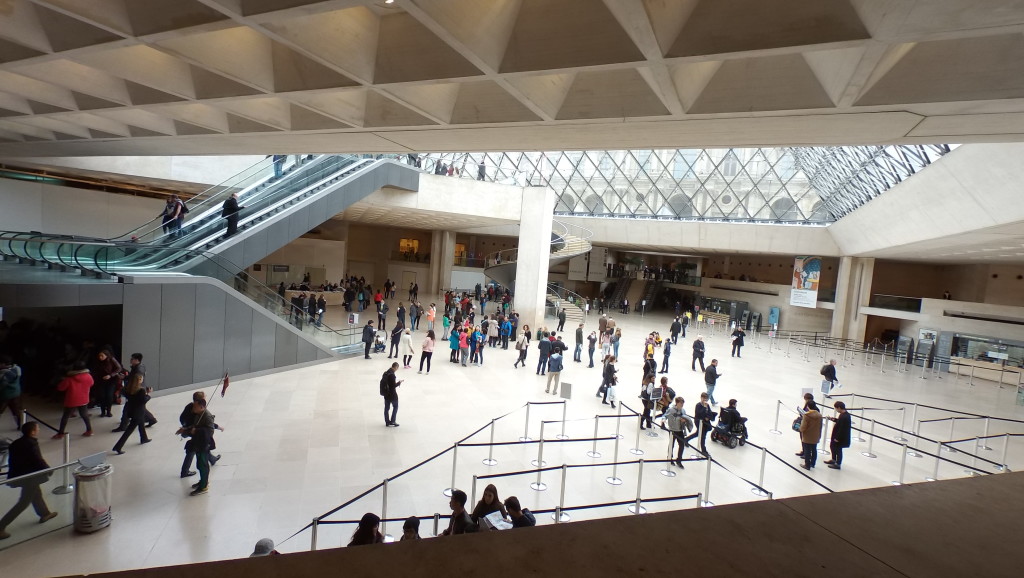 The plan was brilliant! We found her all by lonesome herself trapped in an enclosed transparent showcase and completely surrounded by tight security personnel at the Denon wing of the museum on the first floor. Randall and I managed to grab a few unblocked selfies before a large group of tourists approached the area. Hashtag winning.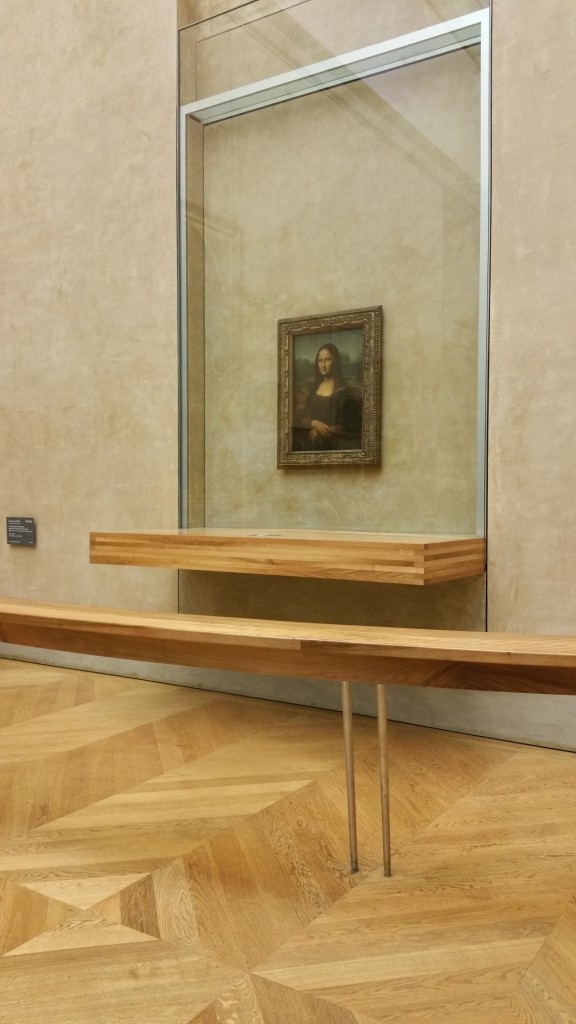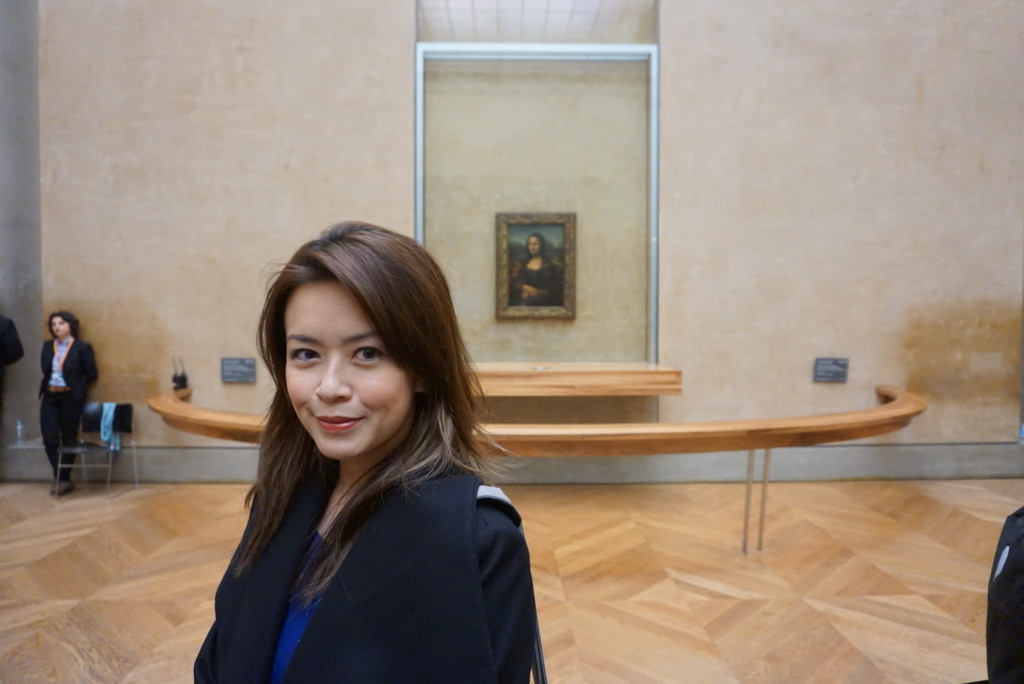 After that tiny accomplishment, Randall and I could finally take our time to explore the rest of the great halls of the Musée de Louvre which houses incredible historical artifacts, paintings and sculptures. I felt so amazed by the sheer talent of all these remarkable artists from past centuries that I wondered what might have been in their thoughts when they were creating such delicate and awe-inspiring pieces of art.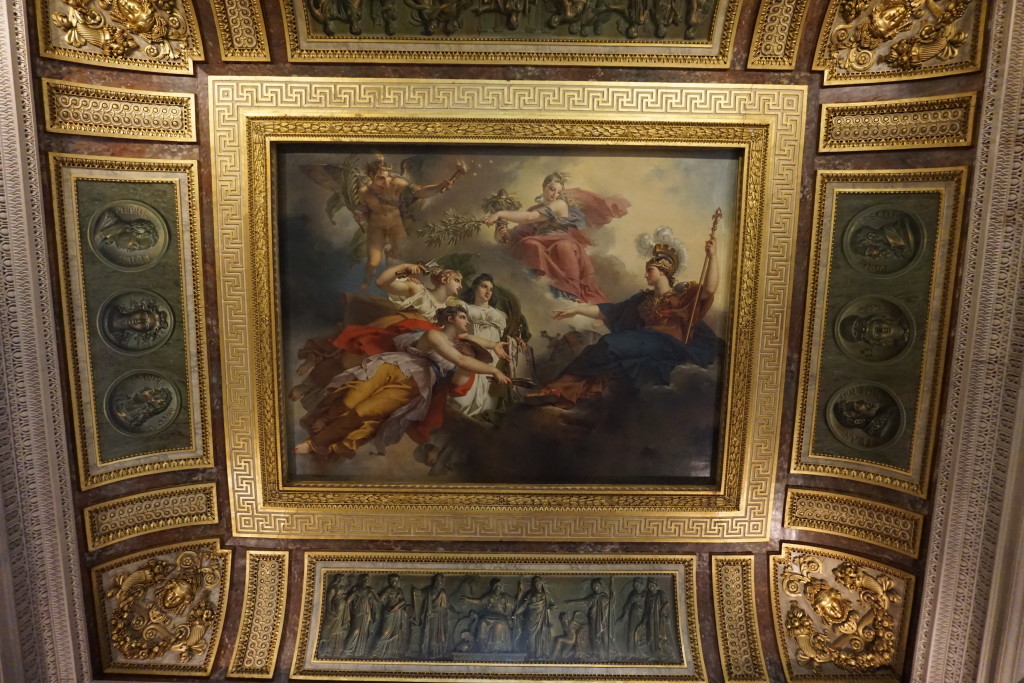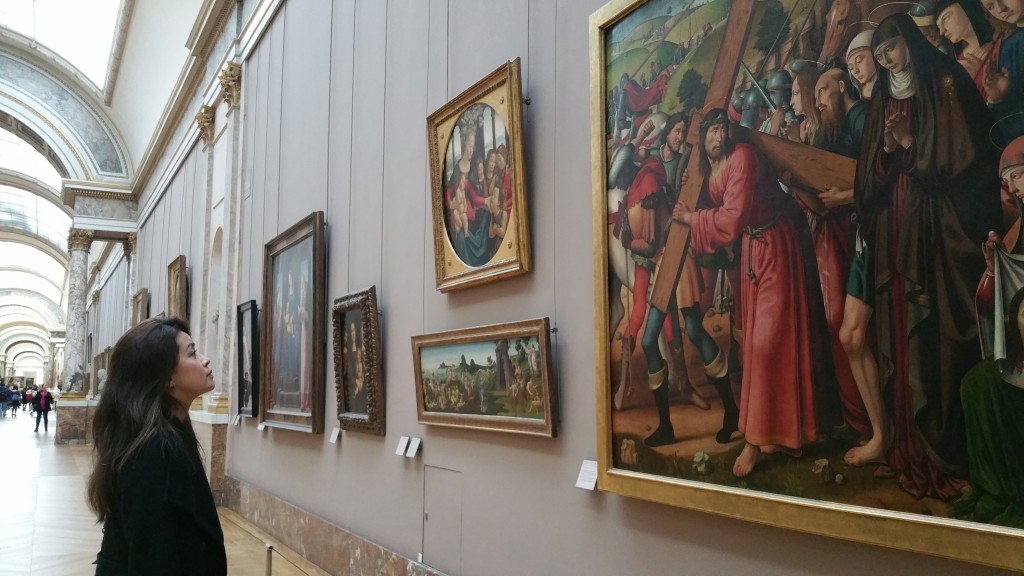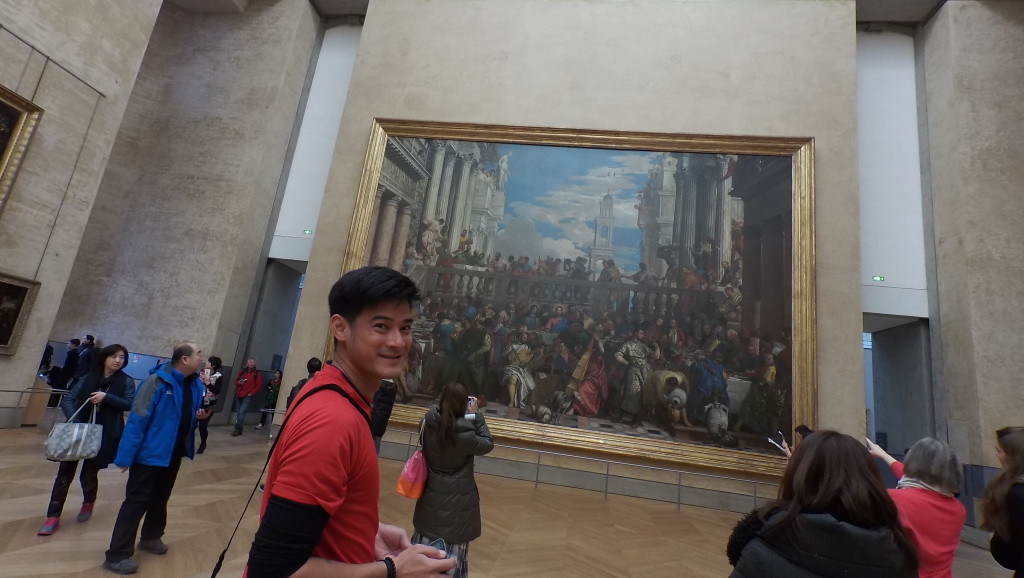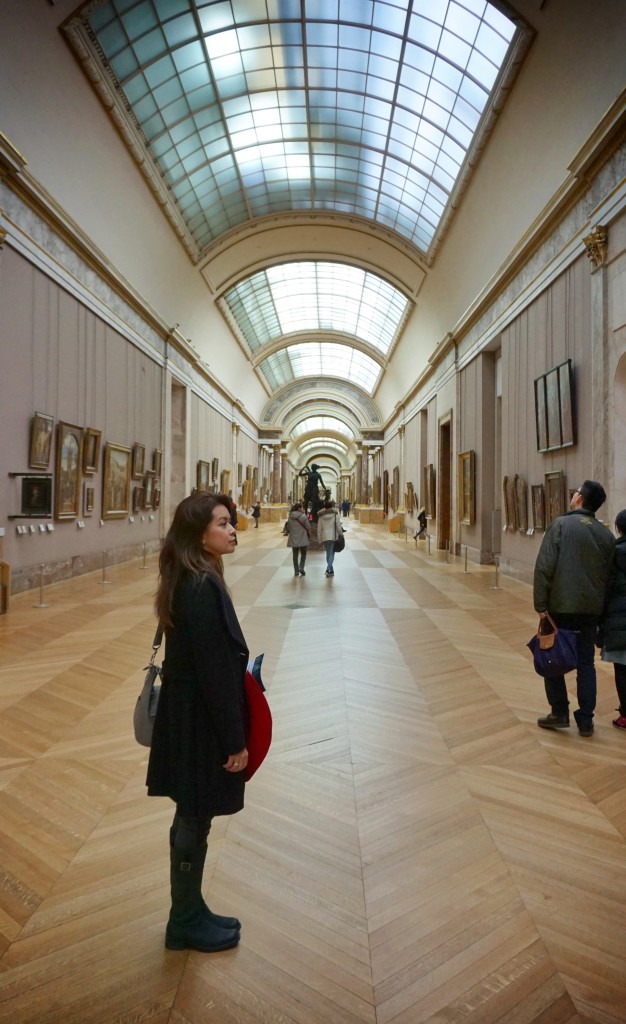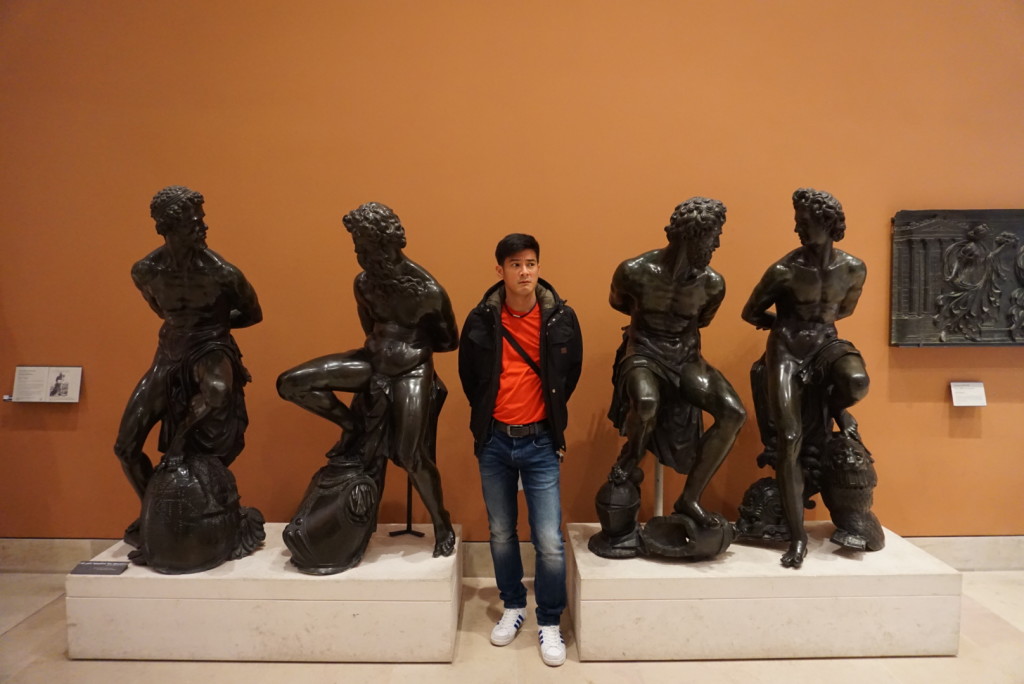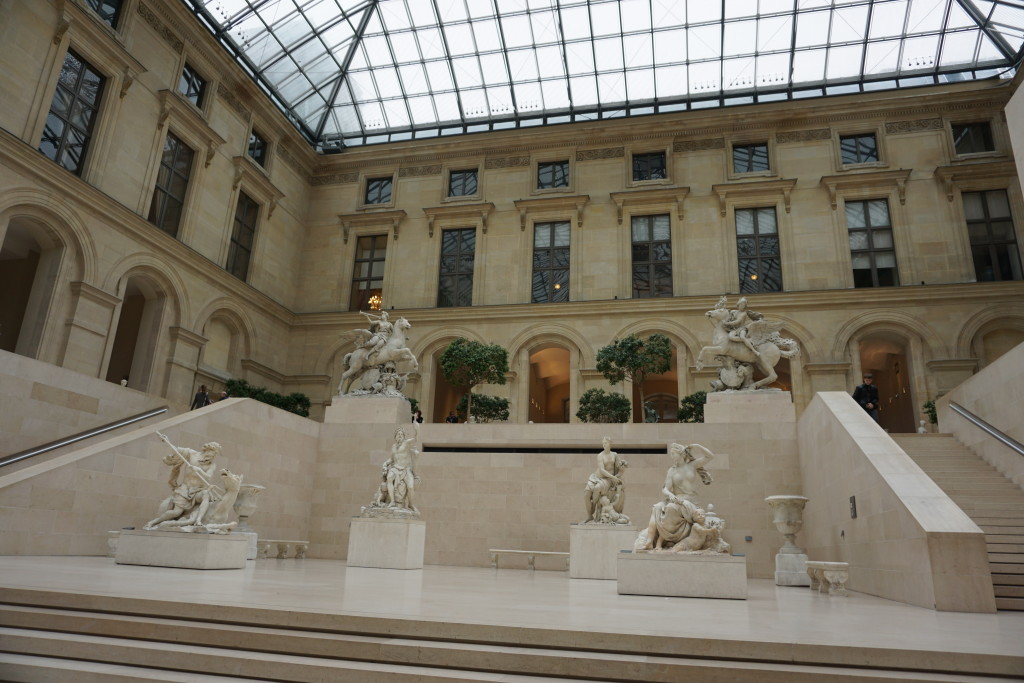 It was still raining outside when we left The Louvre, so we skipped the outdoor ground tour and decided to take the Metro tube to Montmarte to see the Sacré Cœur which was another historical sanctuary of worship. We stopped at Chateau Rouge Station and found ourselves in the middle of an entire row of hair salons specialising in braiding and afro hairstyles! I'm guessing Rue Poulet is the street to remember if you ever wanna do cornrolls in Paris! We continued walking up to Mont Marte via Rue Muller and found the long stairway to climb up towards the Sacré Cœur.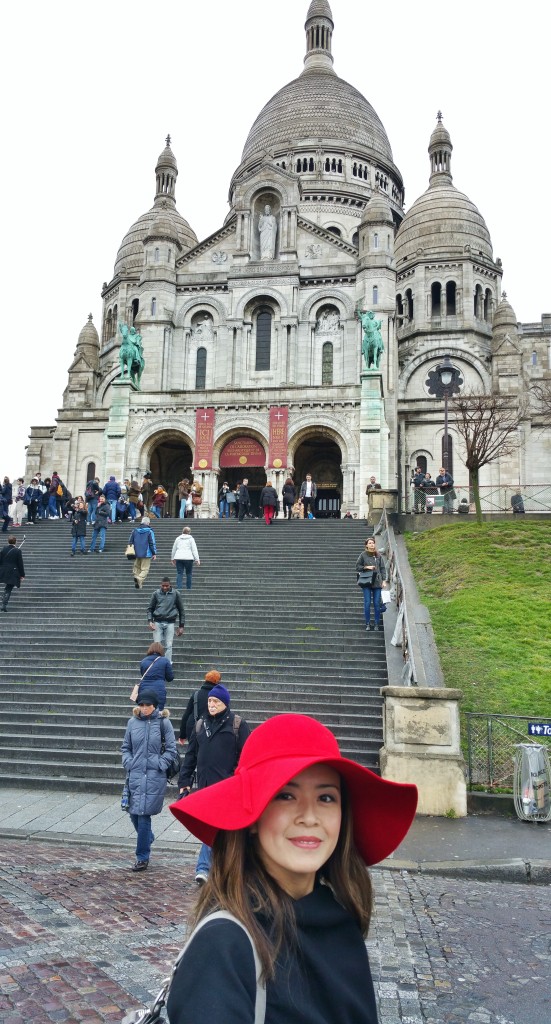 The Basilica of the Sacred Heart of Paris, or Sacré-Cœur Basilica as we know it, is a Roman Catholic church and minor basilica dedicated to the Sacred Heart of Jesus. Even with gloomy skies as a backdrop, the church looked magnificently breathtaking. Randall and I entered the regal church and spent the next hour or so immersing ourselves in the sheer beauty of the holy place. Photography was not allowed inside the church so we basically snapped images in our minds.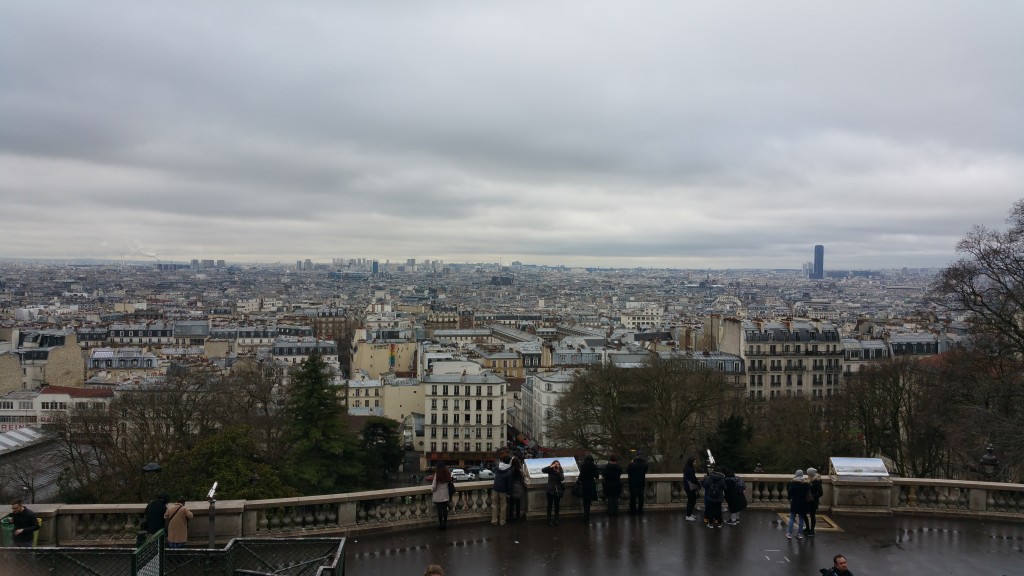 The sky was still overcast when we left Sacré Cœur so we made our way down the hill on foot via Rue Foyertier instead of zipping down on the touristy inclined railway service at Funiculaire. There were several souvenir shops along Rue Steinkerque which were fun to check out and we eventually plonked ourselves down at Post Cafe for coffee. Oh, we did do a pit-stop at La Gourmande along the way as well because one can never resist cookies and sweets. They were so yummy! So glad that they now have an outlet in Marina Bay Sands, Singapore as well!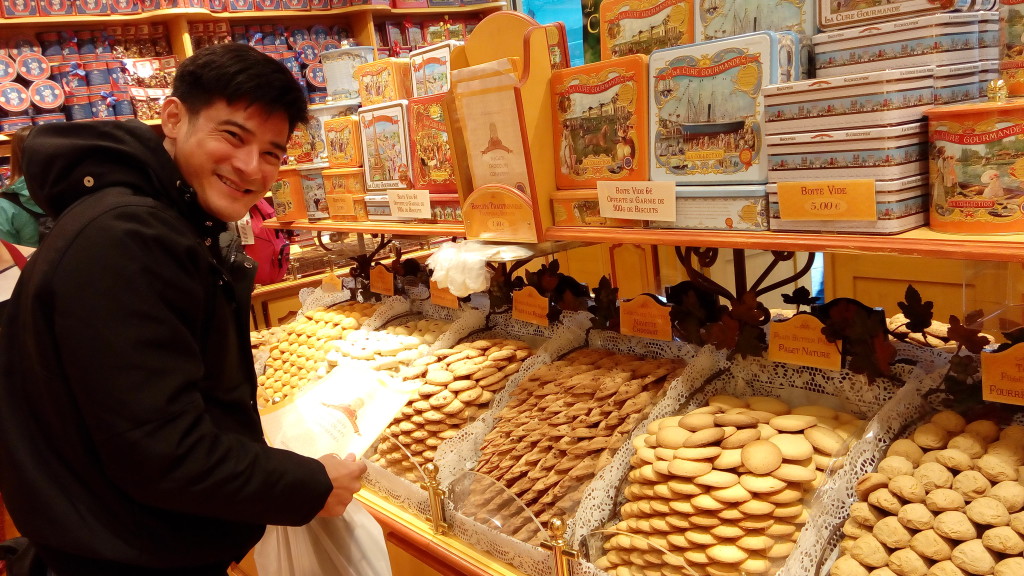 Randall and I then took the Metro back to Rambuteau station in hope to check out The Centre Pompidou which was the National Museum of Modern Art in Paris but we had just missed their opening hours. Nevertheless, we waited out the light rain for a bit before taking a slow walk back to St Germain.
By nightfall, the rain had begun to get heavier so we headed back to Citadines to rest. It wasn't long before our tummies started growling for dinner, so we googled for a restaurant nearby and found Café Latin which was just a stone's throw away from the aparthotel. True to customer reviews, the cosy restaurant did not disappoint. Escargots, french onion soup ( yes, I had to have it again! ), steaks, etc. It was French fare at its finest.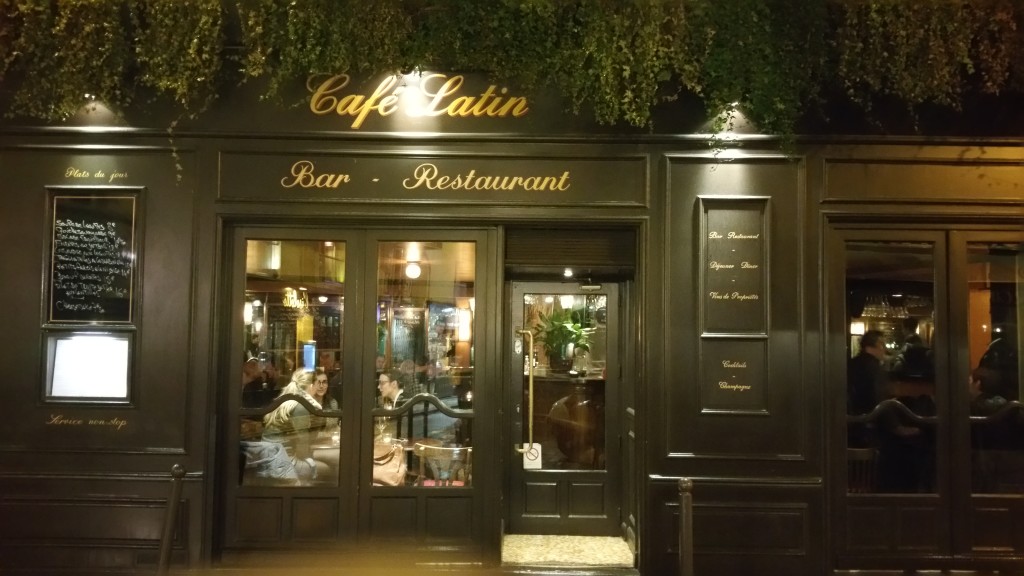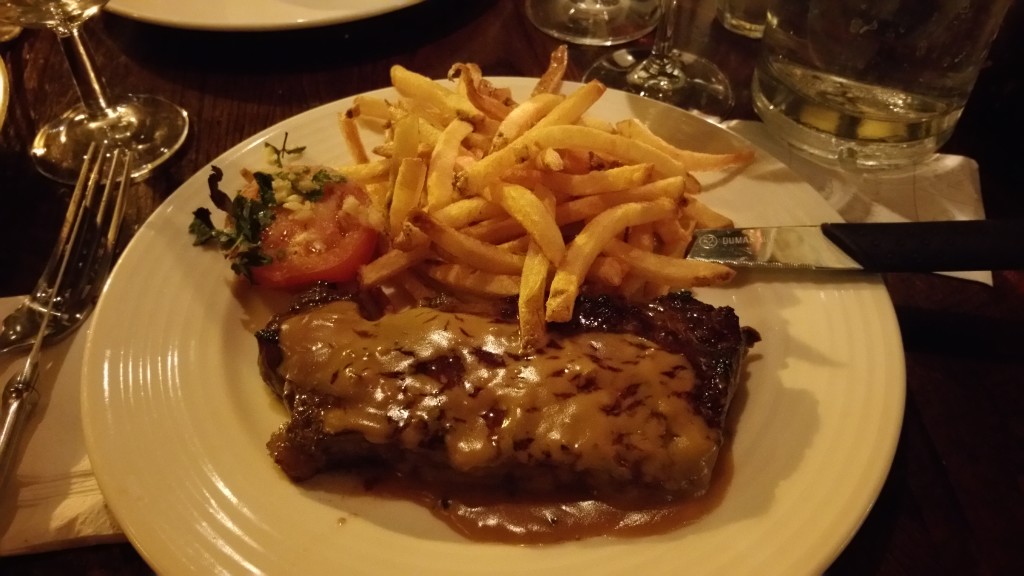 Truly a perfect end to our last evening in Paris!
Day 7/16 – FRI 27th February 2015
It was destined that the day we leave Paris would be the sunniest weather EVER in the beautiful city. Boo! Looks like we have to return someday again soon! After one last delicious breakfast at the hotel, we booked a taxi to Gare du Nord train station and boarded the Eurostar back to London St Pancras International station.
A full week in London, Manchester, Liverpool, Bath and Stratford-upon-Avon awaits!